Current Affairs MCQ for UPSC Exams - 05 May 2020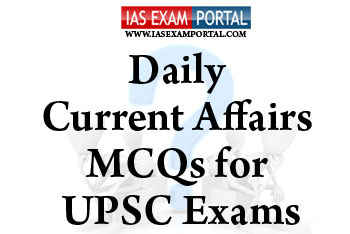 ---
Current Affairs MCQ for UPSC Exams - 05 May 2020
---
Q1 DRDO has developed an Ultra Violet Disinfection Tower for rapid and chemical free disinfection of high infection prone areas.Which of the following statements regarding the same stands true ?
1) The equipment named UV blaster has six lamps each with 43 watts of UV-C power. For a room of about 12 x 12 feet dimension, the disinfection time is about 10 minutes and 30 minutes for 400 square feet area by positioning the equipment at different places within the room.
2) The UV Blaster is useful for high tech surfaces like electronic equipment, computers and other gadgets in laboratories and offices that are not suitable for disinfection with chemical methods.
3) The product is howeveris not effective for areas with large flow of people such as airports, shopping malls, metros, hotels, factories and offices.
Options :
a) 1 & 2 only
b) 2 & 3 only
c) 1 & 3 only
d) all the above
Q2 Which of the following strategies can be regarded as methods of carbon sequestration ?
1) Ocean fertilisation
2) Rock solutions
3) Artificial volcano formations
4) Mineral carbonation
5) Ice cap melting
Options :
a)1,2 & 3 only
b) 2,4 & 5 only
c) 1,2 & 4 only
d) all the above
Q3 With respect to the newly launched "The Saras Collection" platform on the GeM (Government E- marketplace) portal, which of the following statements stands true ?
1) "The Saras Collection" showcases daily utility products made by rural self-help groups (SHGs) and aims to provide SHGs in rural areas with market access to Central and State Government buyers.
2) It is a unique initiative of GeM portal and MGNREGA.
3) By providing SHGs with direct access to Government buyers, the Saras Collection will do away with intermediaries in the supply chain and will ensure better prices for SHGs and spurring employment opportunities at the local level.
Options :
a) 1 & 2 only
b) 2 & 3 only
c) 1 & 3 only
d) all the above
Q4 Which of the following statements regarding the Food Corporation of India (FCI) stands true ?
1) Set up under the Food Corporations Act 1964, in its first decade, the FCI was at the forefront of India's quest of self-sufficiency in rice and wheat following the Green Revolution, managing procurement and stocking grain that supported a vast Public Distribution System (PDS).
2) FCI's guidelines follow a first in, first out principle (FIFO) that mandates that grain that has been procured earlier needs to be distributed first to ensure that older stocks are liquidated, both across years and even within a particular year.
3) In 2019-2020 (until February) around 74% of the grain moved was by road, which shows that the FCI is overwhelmingly dependent upon road transport than rail networks.
Options :
a) 1 & 2 only
b) 2 & 3 only
c) 1 & 3 only
d) all the above
Q5 Which of the following countries recently........................
CLICK HERE FOR ANSWERS (Only for Course Members)
ANSWER...................