Current Affairs MCQ for UPSC Exams - 05 October 2020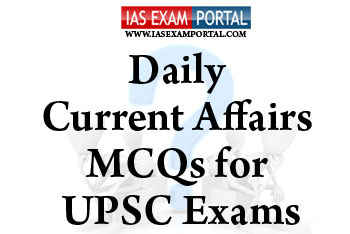 ---
Current Affairs MCQ for UPSC Exams - 05 October 2020
---
Q1 Environment, Forest and Climate Change Minister recently said that a detailed plan will be prepared to improve the quality of zoos across the country. Which of the following statements with respect to central zoo authority stands true ?
1) The CZA is the body of the government responsible for oversight of zoos constituted under the section 38A of Wild Life (Protection) Act 1972 with the main objective of the authority is to complement the national effort in the conservation of wildlife.
2) It also regulates the exchange of animals of endangered category Listed under Schedule-II and III of the Wildlife (Protection) Act among zoos but not those in Schedule-1.
3) Exchange of animals between Indian and foreign zoos is also approved by the Authority before the requisite clearances under EXIM Policy and the CITES permits are issued by the competent authority.
Options :
a) 1 & 2 only 
b) 2 & 3 only 
c) 1 & 3 only
d) all the above
Q2 Which of the following countries are the members of GCC (Gulf cooperation council) ?
1) Bahrain
2) Iraq
3) Iran
4) Saudi Arabia
5)  Oman
Options :
a) 1,2 & 3 only 
b) 1,4 & 5 only 
c) 2,3 & 5 only
d) 2,4 & 5 only 
Q3 India successfully test-fired a new version of nuclear-capable Shaurya missile recently  from the coast of Odisha. Which of the following statements regarding the same stands true ?
1) It is a canister launched hypersonic surface-to-surface tactical missile developed by the Indian Defence Research and Development Organisation (DRDO).
2) Shaurya missiles can remain hidden underground from enemy surveillance or satellites till they are fired from storage-cum-launch canisters.
3) Range of the missile is 3700 to 4,900 km and it can carry a conventional or nuclear warhead payload of 2000kg to 10 tons.
Options :
a) 1 & 2 only 
b) 2 & 3 only 
c) 1 & 3 only
d) all the above
Q4 Central Government recently declared that it has started implementing the recommendations of the Swaminathan Commission and is working towards doubling the income of farmers by 2022. With respect to the recommendations of the commission, which of the following statements stands true ?
1) One of the important recommendations of the commission includes Reforms in tenancy laws, land leasing, distribution of ceiling surplus land and wasteland, providing adequate access to common property and wasteland resources, and the consolidation of holdings.
2) Rainwater harvesting and aquifer recharge should be mandatory and farmers must be provided with financial assistance to invest in the replenishment of their renewable resource.
3) Poultry rearing should be recognized as an agricultural activity and appropriate support should be provided to backyard poultry farmers to establish Small Holders' Poultry Estates.
Options :
a) 1 & 2 only 
b) 2 & 3 only
c) 1 & 3 only
d) all the above
Q5 Nagorno-Karabakh region, recently in news is a disputed territory between which of the following countries ?
a) India-Myanmar
b) Syria-Iraq
c) Armenia-Azerbaijan
d) Russia-Ukraine