Current Affairs MCQ for UPSC Exams - 06 December 2019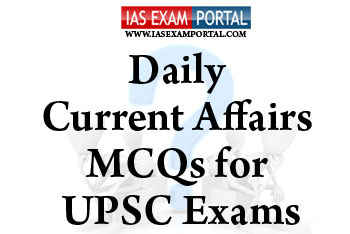 ---
Current Affairs MCQ for UPSC Exams - 06 December 2019
---
Q1. Which of the following statements regarding the newly proposed Seeds bill introduced in Parliament stands true ?
1) Seeds Bill is necessary to enhance seed replacement rates in Indian agriculture, specify standards for registration of seed varieties and enforce registration from seed producers to seed retailers.
2) The Seeds Bill insists on compulsory registration of seeds.
3) India is a signatory Trade­Related Aspects of Intellectual Property Rights(TRIPS) but has not joined the International Union for the Protection of New Varieties of Plants (UPOV) Convention.
a) 1 & 2 only
b)2& 3 only
c)1 & 3 only
d) all of the above
Q2. Arrange the following pairs of tiger reserves in India from South to North :
A) Amrabad
B) Rajaji
C) Melghat
D) Buxa
a) BCDA
b) ACDB
c) CDBA
d) ABCD
Q3. India's forex reserves crossed the $450billion mark for the first time ever on the back of strong inflows recently. Which of the following statements regarding the same stands true ?
1) The gain in reserves was mainly on account of an increase in foreign currency assets, a major component of the overall reserves.
2) Expressed in rupee terms, the foreign currency assets include the effect of appreciation or depreciation of non-US units, such as the euro, pound and the yen held in forex reserves.
3) The rise in foreign exchange reserves will give the central bank the firepower to act against any sharp depreciation of the rupee.
a) 1 & 2 only
b)2& 3 only
c)1 & 3 only
d) all of the above
Q4. The Reserve Bank of India today said that it is mulling to amend regulatory guidelines for primary Urban Co-operative Banks - UCBs. Which of the following statements regarding the statement and the governance of urban cooperative banks starts true ?
1) RBI said that this measure would bolster cyber-security preparedness and ensure that UCBs offering a range of payment services and higher information technology penetration are brought at par with commercial banks in addressing cyber-security threats.
2) RBI has also decided to bring UCBs with assets of 500 crore rupees and above under the Central Repository of Information on Large Credits - CRILC reporting framework.
3) While UCB's banking operations are regulated by the RBI, their management and resolution in the case of distress is regulated by the Registrar of Co-operative Societies either under the State or Central government.
a) 1 & 2 only
b)2 & 3 only
c)1& 3 only
d) all of the above
Q5. The "Inclusive development index" recently seen in news is published by which of the following global organisations ?
a) IMF
b) World Bank
c) World economic forum
d) WTO
Answer :
1. (a) 2. (b) 3. (c) 4. (d) 5.(c)