Current Affairs MCQ for UPSC Exams - 06 May 2020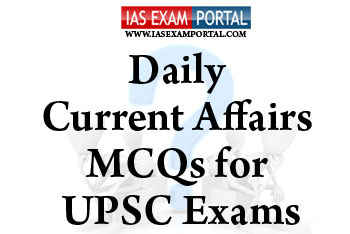 ---
Current Affairs MCQ for UPSC Exams - 06 May 2020
---
Q1 Consider the following statements :
1) Herd immunity is a form of indirect protection from infectious disease that occurs when a large percentage of a population has become immune to an infection
2) Individuals can become immune by recovering from an earlier infection or through vaccination. Some individuals cannot become immune because of medical conditions, such as an immunodeficiency or immunosuppression, and for this group herd immunity is a crucial method of protection.
3) Herd immunity created via vaccination contributed to the eventual eradication of tetanus in 1977 and has contributed to the reduction of the frequencies of other contagious diseases.
Which of the above statements stands true ?
Options :
a) 1 & 2 only
b) 2 & 3 only
c) 1 & 3 only
d) all the above
Q2 Which of the following ancient forts/palaces of India and there corresponding location states are correctly matched ?
1) Gingeefort :Tamilnadu
2) Sheesh Mahal : Madhya Pradesh
3) LalgarhPalace : Rajasthan
4) Neermahalpalace : Tripura
5) AnandBhavan : Andhra pradesh
Options :
a) 1,2 & 3 only
b) 1,3 & 4 only
c) 2,4 & 5 only
d) 1,4 & 5 only
Q3 The Textiles Ministry has assured farmers in Maharashtra that the Cotton Corporation of India (CCI) is fully prepared to purchase cotton at minimum support price in the state during the ongoing lockdown. Which of the following statements with respect to CCI stands true ?
1) The Cotton Corporation of India Limited or CCI is a Government of India agency, engaged in diverse activities related to trade, procurement, and export of cotton.
2) CCI is a public sector agency responsible for equitable distribution of cotton among the different constituents of the industry and aid imports of cotton.
3) It was incorporated on 31 July 1970 under the Companies Act 1956 and is governed by Textile Policy 1985 issued by the Ministry of Textiles, Government of India.
Options :
a) 1 & 2 only
b) 2 & 3 only
c) 1 & 3 only
d) all the above
Q4 Experts have claimed that Blue skies and reduced emissions due to nationwide lockdown are only temporary and won't benefit environment in long run. Which of the following statements regarding the same stands true ?
1) Central Pollution Control Board (CPCB) released a report on effect of 'Janata Curfew' on the air quality in which it found that the reduction in number of on-road vehicles, resulted in up to 51 per cent reduction in nitrogen oxide (NOx) levels and 32 per cent reduction in carbon dioxide (CO2) levels.
2) Environmentalists feel that carbon emissions may have reduced drastically but are likely to go back to the pre-corona levels in a few weeks' time, once the virus threat mitigates.
3) Climate crisis affects society's most vulnerable and marginalized people and to address the climate crisis we need to focus on systemic and behavioural changes.
Options :
a) 1 & 2 only
b) 2 & 3 only
c) 1 & 3 only
d) all the above
Q5 "Operation SamudraSetu"recently in news......................
CLICK HERE FOR ANSWERS (Only for Course Members)
ANSWER..................