Current Affairs MCQ for UPSC Exams - 06 October 2020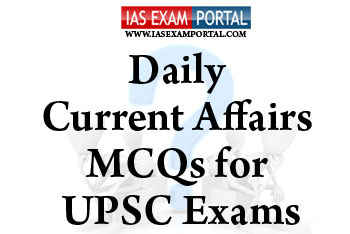 ---
Current Affairs MCQ for UPSC Exams - 06 October 2020
---
Q1 A recent sample survey, conducted by the Consumer Unity and Trust Society (CUTS)-International has found that the consumption of industrially produced partially Transfats had increased by 19% from its pre-lockdown level in the rural areas. Which of the following statements with respect to the TFA's stands true ?
1) Trans fatty acids (TFAs) or Trans fats are a form of unsaturated fats which are the most harmful type of fats having much more adverse effects on our body than any other dietary constituent.
2) TFAs pose a higher risk of heart disease than saturated fats. While saturated fats raise total cholesterol levels, TFAs not only raise total cholesterol levels but also reduce the good cholesterol (HDL), which helps to protect us against heart disease.
3) The World Health Organisation (WHO) is working with the International Food and Beverage Alliance (IFBA) to eliminate trans-fat from industrially produced global food supply by 2030.
Options :
1 & 2 only
b) 2 & 3 only 
c) 1 & 3 only
d) all the above
Q2 Consider the following pairs of tribes and their habitat locations states :
1) Jannsari : Assam
2) Chenchus :Telangana
3) Chakma : Madhya Pradesh
4) Dhodia : Maharashtra
Which of the above pairs are matched incorrectly ?
a) 1 & 2 only
b) 2 & 4 only
c) 1 & 3 only
d) 1 & 4 only 
Q3 The Election Commission has come out with a set of new instructions that seeks to make the procedure to opt for postal ballot for people aged above 80 years of age and people with disabilities. Which of the following statements regarding the new instructions proposed by the election commissionstands true ?
1) Constitution of India authorises all states to make provisions for reservation of seats for disabled persons and elderly (above80 years) in local bodies within their respective jurisdictions.
2) Concept of an absentee voter has been introduced for the elections recently. An absentee voter means a person belonging to class of persons as notified under section 60 of theConduct of Election Rules, 1961. Act and who is employed in essential services.
3) The returning officer( RO) is responsible for the conduct of elections as per the Representation of the People Act, 1951.He decides the validity of ballot paper and the decision taken by RO in regard to ballot paper cannot be over ruled by  the election commission.
Options :
a) 1 & 2only 
b) 2 & 3only 
c) 1 & 3only 
d) all the above
Q4 The Supreme Court has held that narco-analysis, polygraph and brain mapping tests on an accused are illegal. Which of the following statements regarding the same stands true ?
1) Narco-analysis is a controlled administration of intravenous hypnotic medications called truth drugs on a suspect to procure vital information.
2) A polygraphis an instrument that measures and records several physiological indices such as blood pressure , pulse, respiration and breathing rhythms and skin conductivity while a suspect is asked a series of questions.
3) The issue of the legality of such techniques to extract information from the accused had received considerable attention since it involves tensions between the desirability of efficient investigation and the preservation of individual liberties.
Options :
a) 1 & 2only 
b) 2 & 3only
c) 1 & 3only
d) all the above
Q5 Which of the following countries (recently in news )situated between Australia and Fiji and sometimes called "The Pebble", was seized by France in 1853 and is home to 270,000 people ?
a) Tuvalu
b) New Caledonia
c) Hawaii
d) Tonga