Current Affairs MCQ for UPSC Exams - 07 January 2022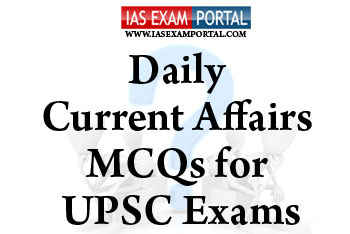 Current Affairs MCQ for UPSC Exams - 07 January 2022
Q.1) Consider the following statements regarding DigiSaksham program:
1. The programme has been launched by Ministry for Labour and Employment. 
2. It is a digital skills programme to enhance the employability of youth.
3. This program is a joint initiative with Google India.
Which of the statements given above is/are correct?
(a) 1 and 3 only
(b) 2 and 3 only
(c) 1 and 2 only
(d) 1, 2 and 3 only
Q.2) Plastic Waste Management Rules was enacted from the year 
(a) 2015
(b) 2016
(c) 2018
(d) 2017
Q.3) Recently seen in news about the term cryptoization, coined by 
(a) International Monetary Fund 
(b) World Bank 
(c) Asian Development Bank 
(d) Bank of America 
Q.4) Which among the following countries not a member of the Community of Portuguese Language Countries?
(a)Eswatini
(b) Cabo Verde
(c) Mozambique
(d) Timor-Leste
Q.5) Consider the following statements regarding Basel-III norms:
1.It is an internationally agreed set of measures developed by the Basel Committee on Banking Supervision in response to the financial crisis of 2007-09.    
2.The measures aim to strengthen the regulation, supervision and risk management of banks.
Which of the statements given above is/are correct?
(a) Neither 1 nor 2
(b) Both 1 and 2 
(c) 1 only
(d) 2 only