Current Affairs MCQ for UPSC Exams - 07 January 2023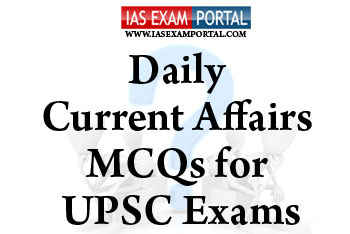 Current Affairs MCQ for UPSC Exams - 07 January 2023
Q.1) Consider the following statements: 
1. Green bonds are issued by companies, countries and multilateral organisations to exclusively fund projects that have positive environmental or climate benefits and provide investors with fixed income payments.    
2. The projects can include renewable energy, clean transportation and green buildings, among others.
3. The World Bank is a major issuer of green bonds.
Which of the statements given above is/are correct?
(a) 1 and 3 only
(b) 2 and 3 only
(c) 1 and 2 only
(d) 1, 2 and 3
Q.2) Sagol Kangjei is the name of the game of polo played in
(a) Mizoram 
(b) Assam 
(c) Nagaland 
(d) Manipur
Q.3) Which of the following statements regarding "Regional Rural Banks" is/are correct?
1. RRBs are financial institutions which ensure adequate credit for agriculture and other rural sectors.
2. The equity of a regional rural bank is held by the Central Government, concerned State Government and the Sponsor Bank in the proportion of 50:35:15.
3. The RRBs are required to provide 75% of their total credit as priority sector lending.
Select the correct answer using the code given below: 
(a) 1 and 3 only
(b) 2 and 3 only
(c) 1 and 2 only
(d) 1, 2 and 3
Q.4) Parasnath Wildlife Sanctuary area is based in 
(a) Jharkhand 
(b) Tripura 
(c) Bihar 
(d) Arunachal Pradesh 
Q.5) Consider the following statements: 
1.The UN Peace keepers are known as 'Blue Helmets' or 'Blue Berets'.
2.Peacekeepers are the military personnel of the UN that work alongside the UN Police and civilian colleagues to promote "stability, security, and peace processes".
Which of the statements given above is/are correct?
(a) Neither 1 nor 2
(b) Both 1 and 2 
(c) 1 only
(d) 2 only
Answer : 1(D), 2(D), 3(A), 4(A), 5(B)