Current Affairs MCQ for UPSC Exams - 08 April 2020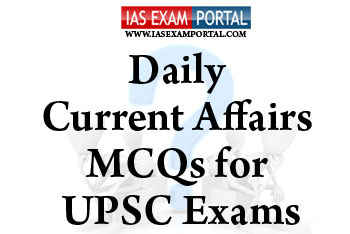 ---
Current Affairs MCQ for UPSC Exams - 08 April 2020
---
Q1 1) The Ministry of Tribal Affairs recently commissioned a study about Community Forest resource Rights recently. Which of the following statements regarding "community forest rights" stands true ?
1) In India The environmental protection act 1986 defines the Community Forest resource Rights.
2) However, there are no guidelines to implement Community Forest Rights. The State Governments should create guidelines according the locals and their traditions.
3) As per recent reports,ten years after the historic Forest Rights Act (FRA) was passed by the Indian lawmakers, only three per cent of villages or communities could secure their rights over forest resources which include land and the produce from the forests and water.
Options :
a) 1 & 2 only
b) 2 & 3 only
c) 1 & 3 only
d) all the above
Q2 Which of the following water bodies are covered under the CRZ ( coastal regulation zone ) notifications of 1991 ?
1) Rivers
2) Estuaries
3) Seas
4) Creeks
5) Bays
Options :
a) 1,2 & 3 only
b) 2,3 & 5 only
c) all the above
d) 1 & 3 only
Q3 The Centre has taken a number of initiatives to ensure smooth supply of essential items during the lockdown period arising out of COVID-19 pandemic. Which of the following statements regarding the same stands true ?
1) Government is committed to protect the interest of the jute farmers and workers through provisions of the Jute Packaging Materials Act and it provides about 100 per cent reservation for packaging of food grains in jute bags.
2) It has extended limit for High-Density PolyEthylene/Polypropylene bags from 1.80 lakh bales to 2.62 lakh to tide over crisis of packaging of foodgrains due to closure of jute mills due to lockdown.
3) India is the second largest producer of jute and jute allied fibres in the world after China.
Options :
a) 1 & 2 only
b) 2 & 3 only
c) 1 & 3 only
d) all the above
Q4 Which of the following statements regarding the findings of United Nations (Women) organisation with respect to abuses against women stands true ?
1) According to UN Women, globally 243 million women and girls aged 15-49 have been subjected to sexual and/or physical violence perpetrated by an intimate partner in the previous 12 months.
2) The number is likely to increase as security, health and money worries heighten tensions and strains are accentuated by cramped and confined living conditions.
3) Police and justice services must mobilise to ensure that incidents of violence against women and girls are given high priority with no impunity for perpetrators.
Options :
a) 1 & 2 only
b) 2 & 3 only
c) 1 & 3 only
d) all the above
Q5 The SIDBI Assistance to Facilitate Emergency........................
a) Financial institutions
b) MSME sector
c) Capital goods industries
d) Agricultural and allied sector
CLICK HERE FOR ANSWERS (Only for Course Members)
ANSWER..........................