Current Affairs MCQ for UPSC Exams - 08 August 2019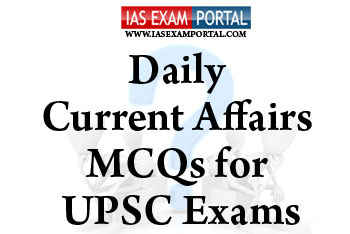 ---
Current Affairs MCQ for UPSC Exams - 08 August 2019
---
Q1. India on Wednesday signed a key UN convention on international settlement agreements, which of the following statements regarding the same stands true ?
1) To boost foreign investors' confidence in the Indian market, the law supporting the convention in India should cover all government contracts with investors for mediation both in India and in a third country choice of disputing parties.
2) A number of UN member countries, both the convention signatories and the ones yet to sign,will need domestic laws supporting the mediation agreements within their respective jurisdictions.
3) India is the only Asian country to have signed the convention agreement.
a) 1 & 2 only
b) 2 & 3 only
c) 1 & 3 only
d) all of the above
Q2. Consider the following statements regarding some of the important rivers in India :
1) The Brahmaputra river is known as Padma in Bangladesh.
2) The river Gomti starts near the junction of three borders viz. Nepal, Uttarakhand and UP.
3)Before entering Bangladesh, Ganga leaves a distributary Hoogly, which provides water for irrigation in West Bengal.
4) Sabarmati riveroriginates in the Pushkar valley near Ajmer, ends in the marshy lands of Rann of Kutch.
Which of the above statements are true ?
a) 1 & 2 only
b) 2 & 3 only
c) 3 & 4 only
d) 1 & 3 only
Q3. With respect the recently released draft Environmental and Social Management Framework (ESMF), which of the following statements are true ?
1) The document lays down guidelines for coastal States to adopt when they approve and regulate projects in coastal zones.
2) So far three coastal States, namely Gujarat, Odisha and West Bengal, have prepared Integrated Coastal Zone Management Plans with support from the Asian Development Bank.
3) The key activities proposed for coastal zone development that consist of investments by States include: mangrove afforestation/shelter beds, habitat conservation activities such as restoration of sea-grass meadows, eco-restoration of sacred groves, development of hatcheries etc.
a) 1 & 2 only
b) 2 & 3 only
c) 1 & 3 only
d) all of the above
Q4. Consider the following statements :
1) Foreign capital tends to flow into countries that have strong governments, dynamic economies, and stable currencies. A nation needs to have a relatively stable currency to attract investment capital from foreign investors.
2) A devalued currency can result in "imported" inflation for countries that are substantial importers.
3) A strong domestic currency exerts a drag on the economy, achieving the same end result as tighter monetary policy.
Which of the above statements are true ?
a) 1 & 2 only
b) 2 & 3 only
c) 1 & 3 only
d) all of the above
Q5. India and which of the following countries are working towards increasing the frequency of "Maitree" and "Bandhan" Express trains running between the two countries ?
a) Myanmar
b) Bhutan
c) Bangladesh
d) Nepal
Answer:
1. (a) 2. (b) 3. (c) 4. (d) 5. (c)