Current Affairs MCQ for UPSC Exams - 08 December 2019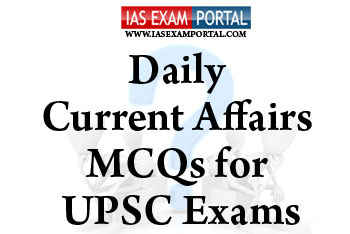 ---
Current Affairs MCQ for UPSC Exams - 08 December 2019
---
Q1. Which of the following statements regarding the national AYUSH grid stands true ?
1) The AYUSH Grid is envisaged as a comprehensive IT backbone covering the different silos of the AYUSH Sector.
2) Ministry of AYUSH has taken up various pilot projects like AYUSH Hospital Management Information System (A-HMIS), Yoga locator application, Telemedicine, Yoga Portal, A-HMIS trainings, IT course for AYUSH Professionals, etc. which shall be merged into AYUSH Grid Project after completion of pilot period.
3) This will instil confidence among people and bring transparency and accountability in the sector at a time when the government is focussing on universal healthcare.
a) 1 & 2 only
b) 2 & 3 only
c) 1 & 3 only
d) all of the above
Q2. Which of the following tax exemptions and other incentives are allowed to SEZs under the SEZ act 2005 ?
1) Exemption from Income Tax for 15 years as per Income Tax Act.
2) Duty free import/domestic procurement of goods.
3) Exemption from State sales tax and other levies as extended by the respective State Governments.
a) 1 & 2 only
b) 2 & 3 only
c) 1 & 3 only
d) all of the above
Q3. Which of the following statements regarding fertiliser production & regulation in the country stands true ?
1) The Department of agicultrure, Cooperation and Farmers Welfare helps the states to assess the requirement of fertilizer while taking into account cropping pattern, cropped area, crop wise recommended dose of fertilizers, requirement of nutrients in soil as per soil health status & recommended doses, irrigated area, consumption pattern etc.
2) The Government of India has notified the New Urea Policy (NUP) – 2015 for existing 25 gas based urea units with the objective of maximizing indigenous urea production; promoting energy efficiency in urea production; and rationalizing subsidy burden on the Government.
3) However the production of fertilizers in the country has severely reduced due to its adverse effects on soil.
a) 1 & 2 only
b) 2 & 3 only
c) 1 & 3 only
d) all the above
Q4. The Department of consumer affairs in association with all States/UTs is implementing a scheme on 'End-to-End Computerization of PDS Operations'.
Which of the followings statements regarding the same stands true ?
1) The scheme includes digitization of ration cards/beneficiaries data including seeding of Aadhaar numbers and installation of ePoS (electronic Point of Sale) devices at all FPSs.
2) The step ensures bringing transparency in the distribution and ensured delivery of highly subsidised foodgrains under NFSA.
3) FPS with poor network connectivity will not affect the biometric authentication of POS devices since they are connected to dollar powered grid.
a) 1 & 2 only
b) 2 & 3 only
c) 1 & 3 only
d) all of the above
Q5. UN Climate Change Conference 2019 took place under the presidency of which of the following governments at Madrid recently?
a) Spain
b) Chile
c) Argentina
d) France
Answer :
1. (d) 2. (d) 3. (a) 4. (a) 5.(b)