Current Affairs MCQ for UPSC Exams - 08 June 2020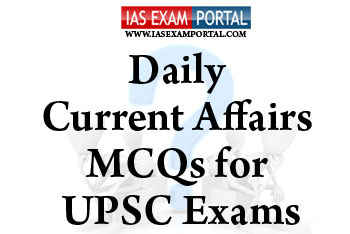 ---
Current Affairs MCQ for UPSC Exams - 08 June 2020
---
Q1 Researchers from IIT Mandi recently used waste plastic bottles to develop a single thin layer of nano-nonwoven membrane that provides desirable particle filtration efficiency, at par with N95 respirator and a medical mask.Which of the following statements regarding the same stands true ?
1) Commercially available melt blown fabric-based masks can be efficient at a cost of high breathing resistance, whereas generic three-ply surgical masks are breathable but have meagre efficiency.
2) Nanofibres based masks can filter out small particles effectively despite being comfortably breathable.
3) However these nanofibresdo not meet the safety requirements of the user by not excluding the bacteria and infectious components.
Options :
a) 1 & 2 only
b) 2 & 3 only
c) 1 & 3 only
d) all the above
Q2 Sports Ministry's flagship programme Fit India is joining hands with the Department of School Education and Literacy, to launch a series of special films promoting 10 indigenous sports of India under the Ek Bharat, Shrestha Bharat initiative.Which of the following sports are regarded as indigenous sports of India ?
1) Kalaripayattu
2) Thang-Ta
3) Kayaking
4) Mallakhamb
5)  Boxing
Options :
a) 1,2& 3 only 
b) 2,4 & 5 only 
c) 1,2 & 4 only 
d) all the above
Q3 Which of the following statements with respect to the revised Public Procurement (Preference to Make in India), Order 2017 stands true ?
1) The government  has introduced a concept of Class-I, II and non-local suppliers, based on which they will get preference in government purchases of goods and services.
2) Class-I local suppliers will get the most preference in all government purchases because their domestic value addition is 80 per cent or more. They will be followed by Class-II suppliers, whose value addition range is more than 60 per cent but less than 80 per cent.
3) Local content means the amount of value added in India, which shall be the total value of the item procured (excluding net domestic indirect taxes) minus the value of imported content in the item (including all customs duty) as a proportion of the total value, in per cent.
Options :
a) 1 & 2 only
b) 2 & 3 only
c) 1 & 3 only
d) all the above
Q4 The Mahatma Gandhi National Rural Employment Guarantee Scheme (MGNREGS) has set new records on the number of person-days of work generated and households benefited under it in May, a month that saw largescale reverse migration from cities. With respect to the possible outcomes of the scheme, which of the following statements stands true ?
1) Excessive supply of labour in rural areas will keep rural wages depressed while their shortage in urban areas will result in an increase in wage cost of these workers in cities.
2) If the trend continued for long, it would cause an acceleration in inflation by pushing up wages in urban areas.
3) The MGNREGA programme hads the potential to absorb as many people and create assets in rural India with the cost of doing it to be cheap.
Options :
a) 1 & 2 only
b) 2 & 3 only 
c) 1 & 3 only
d) all the above
Q5 The "Saalbhar60" campaign recently launched............................
CLICK HERE FOR ANSWERS (Only for Course Members)
ANSWER :