Current Affairs MCQ for UPSC Exams - 09 April 2020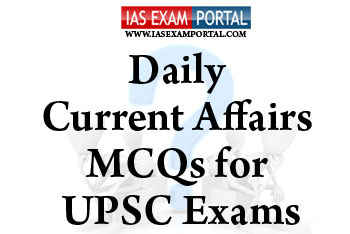 ---
Current Affairs MCQ for UPSC Exams - 09 April 2020
---
Q1 With respect to federal structure and sharing of powers between the centre and state, which of the following statements stands true ?
1) The Seventh Schedule to the Constitution divides responsibilities between these two layers. The Union government is thus tasked with matters of national importance, such as foreign affairs, defence other than airways.
2) Centre is accorded the power to tax all income other than agricultural income and to levy indirect taxes in the form of customs and excise duties.
3) The sole power to tax the sale of goods and the entry of goods into a State is vested in the State governments.
Options :
a) 1 & 2 only
b) 2 & 3 only
c) 1 & 3only
d) all the above
Q2 Consider the following pairs of archaeological sites in India with their location states :
1) Lothal : Gujarat
2) HumayunTomb :Telangana
3) Victoria Terminus : Maharashtra
4) Cholatemples :Odisha
5) Bhimbetka rock shelters : Madhya Pradesh
Which of the above pair are correctly matched ?
Options :
a) 1,2 & 3 only
b) 2,4 & 5 only
c) all the above
d) 1,3 & 5 only
Q3 Which of the following statements with respect to GDP-linked bonds stands true ?
1) A GDP-linked bond is a debt security or derivative security in which the authorized issuer (a country) promises to pay a return, in addition to amortization, that varies with the behaviour of Gross Domestic Product (GDP).
2) It is substantially different from a stock because there are no ownership-rights over the country.
3) These securities can be issued to reference real GDP's only and not upon nominal GDP's.
Options :
a) 1 & 2 only
b) 2 & 3 only
c) 1 & 3only
d) all the above
Q4 Consider the following statements regarding the 'Artemis project' recently unveiled by NASA :
1) The Artemis project aims to land humans on the moon by 2024. The project also aims to make a one month or two-month stay on the moon.
2) The project aims to build a base camp on the moon's north pole.
3) The project is carried out in collaboration with European Space Agency, Canadian Space Agency, Japan Space Agency and Australian Space Agency.
Which of the above statements stands true ?
Options :
a) 1 & 2 only
b) 2 & 3 only
c) 1 & 3only
d) all the above
Q5 Which of the following states/UT's of Indiahas.............................
a) Kerala
b) Telangana
c) Delhi
d) Maharashtra
CLICK HERE FOR ANSWERS (Only for Course Members)
ANSWER..............................