Current Affairs MCQ for UPSC Exams - 10 March 2020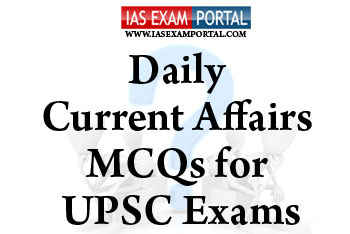 ---
Current Affairs MCQ for UPSC Exams - 10 March 2020
---
Q1 With respect to the funding of political parties (donations),which of the following statements regarding the recently published report by Association for Democratic Reforms ( ADR ) stands true ?
1) As much as 67% of donations to national parties in 2018-19 came from "unknown sources," an increase from 53% in the previous financial year.
2) While parties are required to give details of all donations above ₹20,000, donations under ₹20,000 and those through electoral bonds remain anonymous.
3) Electoral bonds accounted for only 18% of the ₹2,512.98-crore income from unknown sources.
Options :
a) 1 & 2 only
 b) 2 & 3 only 
c) 1 & 3 only 
d) all the above
Q2 There are 128 sites in India contaminated by toxic and hazardous substances, according to a March update by the Central Pollution Control Board (CPCB).Which of the following sites and their corresponding states are correctly matched ?
1) Ganjam :Odisha
2) Eloor :Tamilnadu
3) Nibravillage : West Bengal
4) Ratlam : Madhya Pradesh
5) Rania : Assam
Options :
a) 1,2 & 3 only
b) 1,3 & 4 only 
c) 2,4 & 5 only 
d) all the above
Q3 Consider the following statements regarding fund allocation to SC/ST communities by the central government :
1) After several years of rising trends, the Centre has reduced the percentage allocation of funds for education of schoolchildren from SC and ST communities as well as for the north-eastern region in the coming year.
2) Any shortage of funds for these marginalised communities could be critical, especially given that more than one in five SC and ST students drops out of school at the secondary level.
3)  For at least three years, the amounts allocated to these groups have been on the rise in comparison to total allocations for the department. However, the percentage allotted to these communities dipped in 2020-21.
Which of the above statements stands true ?
Options :
a) 1 & 2 only 
b) 2 & 3 only 
c) 1 & 3 only 
d) all the above
Q4 In the wake of the COVID-19 outbreak, the Centre has identified 21 agricultural products, including honey, potatoes, grapes, soya beans and groundnuts, in which Indian exports could benefit from trade restrictions against Chinese goods. Which of the following statements regarding the same stands true ?
1) There may be opportunities for Indian exporters of agri-items, in case some countries impose restrictions on Chinese goods in response to outbreak of COVID-19.
2) There are 21 agri tariff lines where China's global exports and India's global exports are more than $25 million and where India is price and volume-wise competitive and capable to provide an alternative.
3) Indian agricultural/horticultural and processed foods are exported to more than 100 countries/regions; chief among them are China and South America.
Options :
a) 1 & 2 only 
b) 2 & 3 only 
c) 1 & 3 only 
d) all the above
Q5 The 164.44-kmHubballi-Ankola railway line( recently in news )  passes through pristine forests between two major protected areas — Kali Tiger Reserve and Bedthi Conservation Reserve located in which of the following Indian states ?
a) Tamilnadu
b) Telangana
c) Karnataka
d) Kerala
 
ANSWER..................