Current Affairs MCQ for UPSC Exams - 10 November 2019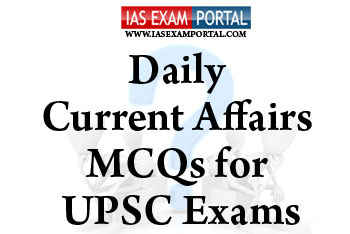 ---
Current Affairs MCQ for UPSC Exams - 10 November 2019
---
Q1. Which of the following statements regarding the for MILAN 2020 exercise which is to be held in Vishakhapatnam stands true ?
1) MILAN series of biennial a multilateral naval exercise which commenced in 1995, was conducted at Andaman and Nicobar Command (ANC) until last year, is being conducted for the first time on the mainland with increased scope and complexity of the Exercise.
2) MILAN 2020 is aimed to enhance professional interaction between friendly foreign navies and learn from each other's strengths and best practices in the maritime domain.
3) The event would also provide an excellent opportunity for Operational Commanders of friendly foreign navies to interact with each other in areas of mutual interest.
a) 1 & 2 only
b) 2 & 3 only
c) 1 & 3 only
d) all of the above
Q2. Arrange the following seas of the world from west to eastern part of the Prime meridian :
A) Laccadive sea
B) Red sea
C) Caspian sea
D) Banda sea
a) BCAD
b) ABCD
c) DBAC
d) DCBA
Q3. Which of the following includes the steps taken by the central government to to improve availability and ease the pressure on prices of onion in the country ?
1) MMTC (State-owned trading company ) has been requested to immediately import a substantial amount of Onions from Dubai and other countries to augment domestic supplies.
2) Peasants have been asked to shift on to other crops for the upcoming Rabi season to ease prices.
3) NAFED(National Agricultural Cooperative Marketing Federation of India ) has been directed to speed up its domestic procurement process especially in Rajasthan and supply to States that have already indicated their demand.
4) FCI given mandatory procurement instructions to procure onions daily from farmer mandis.
a) 1 & 2 only
b) 2 & 4 only
c) 1 & 3 only
d) 1 & 4 only
Q4. Consider the following statements :
1) Indian footwear industry contributes about 2% to India's GDP and has the potential to touch USD 9 billion by 2020.
2) The historical city of Ranchi has been a footwear manufacturing hub, contributing to domestic and export markets which meets 65% of domestic requirement and has a 28% share in the total footwear export of India.
3) The footwear industry is a significant growth accelerator for India's indigenous skill-exports. The quality of the footwear we make has received a lot of acclaim abroad, contributing towards the growth of the economy and boosting competition among domestic manufacturers to excel.
Which of the above statements are true ?
a) 1 & 2 only
b) 2 & 3 only
c) 1 & 3 only
d) all of the above
Q5. Recently world's oldest natural pearl was discovered at a Neolithic site on Marawah Island.The island is part of which of the following cities ?
a) Frankfurt
b) Abudhabi
c) Cairo
d) Canberra
Answer :
1. (d) 2. (a) 3. (c) 4. (c) 5.(b)