Current Affairs MCQ for UPSC Exams - 11 August 2019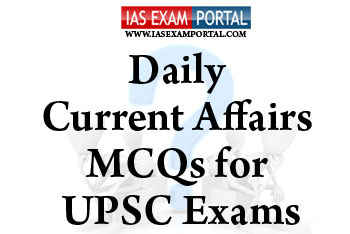 ---
Current Affairs MCQ for UPSC Exams - 11 August 2019
---
Q1. Consider the following statements :
1) Breastfeeding is the most cost effective intervention that addresses the surviveand thrive agenda of child health. It is the first vaccine that protects both the mother and child.
2) Early initiation of breastfeeding within an hour of birth can prevent neonatal mortality; whereas exclusive breastfeeding for six months significantly increases episodes of diarrhoea and pneumonia in infants and children.
3) The central government's MAA' (Mothers' Absolute Affection)involves a comprehensive set of activities on promotion and support of breastfeeding at community and facility levels, through building an enabling environment.
Which of the above statements are true ?
a) 1 & 2 only
b) 2 & 3 only
c) 1 & 3only
d) all of the above
Q2. The Department of School Education & Literacy, MHRD has launched the 'SamagraShiksha-JalSuraksha' drive to promote water conservation activities for School Students, so that they can become competent, conscientious and committed water citizens of our nation.
Which of the following includes the objectives of the programme ?
1) To educate students learn about conservation of water.
2) To educate the students about the natural calamities happening due to water wastage.
3) To sensitize Students about the impact of scarcity of water.
4) To empower Students to learn to protect the artificial sources of water.
a) 1 & 2 only
b) 2 & 3 only
c) 1 & 3 only
d) 2 & 4 only
Q3. Which of the following statements regarding lac resin production & export in India stands true?
1) Lac resin was once imported in sizeable quantity into Europe from India along with Eastern woods, which later fell substantially post 1990's.
2) Lac with its availability and possibilities of cultivation in tribal areas has a great potential in creating livelihood and income generation opportunities for tribal communities.
3) Lac cultivation in India is mainly confined to the states of Assam which contribute 57% of the total production, followed by Andhra Pradesh at 24%.
a) 1 & 2 only
b) 2 & 3 only
c) 1 & 3only
d) all of the above
Q4. To facilitate the production of Biodiesel from UCO, the Oil Marketing Companies shall float an Expression of Interest (EOI) for procurement of Biodiesel from Used Cooking Oil across 100 cities.
Which of the following statements regarding the same stands true ?
1) In India, the same cooking oil is used for repeated frying which adversely affects the health due to formation of polar compounds during frying. These polar compounds are associated with diseases such as hypertension, atherosclerosis, Alzheimer's disease, liver diseases among others.
2) Used Coking Oil(UCO) is either not discarded at all or disposed off in an environmentally hazardous manner choking drains and sewerage systems.
3) Food Safety and Standards Authority of India (FSSAI) is implementing a strategy to divert UCO from the food value chain and curb current illegal usage.
a) 1 & 2 only
b) 2 & 3 only
c) 1 & 3only
d) all of the above
Answer:
1. (c) 2. (c) 3. (a) 4. (d)