Current Affairs MCQ for UPSC Exams - 11 September 2019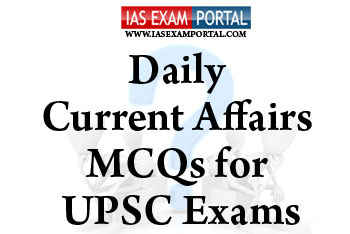 ---
Current Affairs MCQ for UPSC Exams - 11 September 2019
---
Q1. Which of the following statements regarding Indian Urban data exchange stands true ?
1) The platform is intended to facilitate easy and efficient exchange of data among various stakeholders of Smart Cities by interconnecting disparate urban data platforms, and enabling co-creation and innovation.
2) ISRO will lead this effort to create the specifications for such a data exchange platform in collaboration with industry, NGOs and other government agencies.
3) Such a framework will enable a true data empowerment for the city's administrators and other stakeholders and usher in the phase of data driven, smart operations for our cities.
a) 1 & 2 only
b) 2 & 3 only
c) 1 & 3 only
d) all of the above
Q2. Consider the following pairs of thermal power plants and their location states :
1) Thumbli : Rajasthan
2) Kudatini : Karnataka
3) Kayamkulam :Tamilnadu
4)Vindhyanchal :Odisha
5) Tiroda : Maharashtra
Which of the above pairs are correctly matched ?
a) 1,2 & 3 only
b) 3,4 % 5 only
c) 1,2 & 5 only
d) 2,3 & 5 only
Q3. Prime Minister NarendraModi shall launch the KisanMaanDhanYojana on the 12th of September at Ranchi, Jharkhand.Which of the following statements regarding the same stands true ?
1) The Scheme shall secure the lives of 5 Crore Small and Marginal Farmers by providing a minimum pension of Rs 3000 per month, to those who attain 60 years of age.
2) All the small and marginal farmers who are currently between the ages of 18 to 40 years can apply for the scheme.
3) Farmer's monthly contribution can be made from the instalments of PM-KISAN or through CSCs.
a) 1 & 2 only
b) 2 & 3 only
c) 1 & 3 only
d) all of the above
Q4. Consider the following statements :
1) India is a signatory of the United Nations Convention on Rights of Persons with Disabilities (UNCRPD).
2) Parties to the Convention are required to promote, protect, and ensure the full enjoyment of human rights by people with disabilities and ensure that they enjoy full equality under the law.
3)RPwD Act, 2016, launch of Accessible India Campaign, establishment of National Institute of Mental Health Rehabilitation (NIMHR) to address issues concerning psycho-social disability, establishment of Centre for Disability Sports, achievements in distribution of aids and assistive devices, etc. are efforts taken by India towards empowering the disabled.
Which of the above statements are true ?
a) 1 & 2 only
b) 2 & 3 only
c) 1 & 3 only
d) all of the above
Q5. The World Energy Congress 2019 took place in which of the following cities ?
a) London
b) Geneva
c) Abu Dhabi
d) Stuttgart
Answer :
1. (c) 2. (c) 3. (d) 4. (d) 5.(c)