Current Affairs MCQ for UPSC Exams - 12 January 2020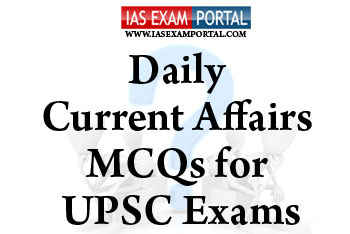 ---
Current Affairs MCQ for UPSC Exams - 12 January 2020
---
Q1. With respect to the newly released financial inclusion strategy by RBI for 2024, which of the following statements stands true ?
1) One of the objectives of the strategy includes increasing outreach of banking outlets of to provide banking access to every village within a 5­km radius.
2) With the aim of providing basic of financial services, a target has been set that every willing and eligible adult, who has been enrolled under the Prime Minister Jan DhanYojana, be enrolled under an insurance scheme and a pension scheme by March 2024.
3) The plan is also to make the Public Credit Registry (PCR) fully operational by March 2022 so that authorised financial entities could leverage the same for assessing credit proposals from all citizens.
a) 1 & 2 only
b) 2 & 3 only
c) 1 & 3 only
d) all of the above
Q2. Which of the following processes/phenomenon can be considered as examples of ecological indicators ?
1) Resource depletion
2) Human population
3) Biodiversity
4) Co2 concentration in atmosphere
a) 1 & 2 only
b) 2 & 4 only
c) 1 & 3 only
d) all of the above
Q3. Which of the following statements regarding the Transgender Persons (Protection of Rights) Bill, 2019 which came to effect recently stands true ?
1) The Act aims to end discrimination against transgender persons in accessing education, employment and healthcare.
2) Every transgender person shall have a right to reside and be included in his household. If the immediate family is unable to care for the transgender person, the person may be placed in a rehabilitation centre, on the orders of a competent court.
3) The bill prohibits all kinds of gender-change surgeries once a gender identity certificate is obtained by the transgender.
a) 1 & 2 only
b) 2 & 3 only
c) 1 & 3 only
d) all of the above
Q4. The Union Home Ministry has said more than 34 lakh Overseas Citizen of India (OCI) registrations had been done. Which of the following statements regarding the same stands true ?
1) OCI card holders have parity with NRI's financial, economic and educational fields except in acquiring agricultural property.
2) Children/spouse of foreign military or police services are not eligible for OCI registrations in India.
3) FRRO offices and Indian missions abroad have been empowered to decide on application cases of children born out of IVF, adoption cases etc.
a) 1 & 2 only
b) 2 & 3 only
c) 1 & 3 only
d) all the above
Q5. The "Ionian Sea"recently seen in news is an elongated bay of the Mediterranean Sea. Which of the following seas lie to the north of the sea ?
a) Baltic sea
b) Adriatic sea
c) North sea
d) Black sea
Answer :
1. (c) 2. (d) 3. (a) 4. (c) 5.(b)