Current Affairs MCQ for UPSC Exams – 12 August 2017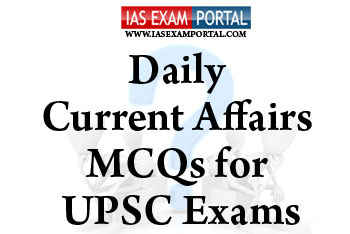 ---
Current Affairs MCQ for UPSC Exams – 12 August 2017
---
Question 1) Which of the following statements correct regarding Central Board of Film Certification?
A) It is under Ministry of Information and Broadcasting
B) It is a non-statutory body
1) A only
2) B only
3) Both A and B
4) Neither A and B


Question 2) Who among the following served two consecutive terms as Vice President?
A) Dr. S. Radhakrishnan
B) V.V. Giri
C) K.R. Narayanan
D) Mohd. Hamid Ansari
1) A and B
2) B and C
3) A and D
4) A,C,D


Question 3) Athirappilly hydel project is located in which state?
A) Kerala
B) Karnataka
C) Goa
D) TamilNadu
Question 4) Which of the following statements correct regarding Article 35A
A) Empowers the Jammu and Kashmirstate's legislature to define "permanent resident"
B) It was added to the constitution through Presidential Order
1) A only
2) B only
3) Both A and B
4) Neither A nor B