Current Affairs MCQ for UPSC Exams - 12 July 2020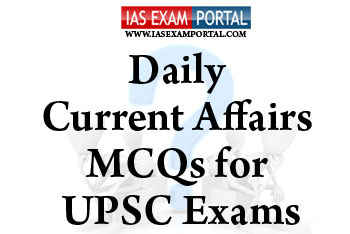 ---
Current Affairs MCQ for UPSC Exams - 12 July 2020
---
Q1. Studies have shown that the sharp increase in average and maximum air temperature, decline in precipitation, change in land-use patterns have caused the increased episodes of forest fires in most of the Asian countries. Which of the following statements stands true?
1) During 2003–2017, a total of 5,20,861 active forest fire events were detected in India, and according to the report of the Forest Survey of India, over 54% of the forest cover in India is exposed to occasional fire.
2) The occurrence of high fire intensity at the low altitude Himalayan hilly regions may be due to the plant species (pine trees) in the area and proximity to villages.
3) While urban clusters make them more susceptible to anthropogenic activities like forest cover clearance, grazing and so on.
Options :
a) 1 & 2 only
b) 2 & 3 only
c) 1 & 3 only
d) all the above
Q2. Consider the following pairs of festivals in India and their corresponding states :
1) Brahmotsavam : Karnataka
2) Yaoshang : Manipur
3) Losar : Mizoram
4) Onam : Kerala
5) Baisakhi : Haryana
Which of the above pairs are correctly matched ?
Options :
a) 1,2 & 3 only
b) 2,4 & 5 only
c) 2& 3 only
d) 2 & 4 only
Q3. NITI Aayog'sAtal Innovation Mission has launched the ATL App Development Module for school children across the country. Which of the following statements regarding the same stands true ?
1) Through six project-based learning modules and online mentoring sessions, young innovators can learn to build mobile apps in various Indian languages and showcase their talent.
2) NITI Aayog is now bringing the skills of app development to the young tinkerers of Atal Tinkering Labs across the country so that they can integrate their Tinkering Lab innovations with mobile apps enhancing the usability and reach of their innovations and this will be one of the largest app learning and development initiatives at a school level in any country.
3) Additionally, to build capacities and acumen for app development within school teachers, periodic Teacher Training sessions will be conducted on the AIM App Development course.
Options :
a) 1 & 2 only
b) 2 & 3 only
c) 1 & 3 only
d) all the above
Q4. Ministry of Road Transport and Highways has notified a draft notification proposing amendment to the Central Motor Vehicles Rules, 1989 for inclusion of the standards for the safety evaluation of the vehicles being propelled through hydrogen fuel cells. Which of the following statements regarding the same stands true ?
1) The hydrogen fuel specifications for fuel cell vehicles shall be in accordance with ISO 14687 till the corresponding BIS specification is notified under the Bureau of Indian Standard Act, 2016.
2) When hydrogen is burned, it doesn't emit harmful substances. Basically, it reacts to oxygen without burning and the energy it releases can be used to generate electricity used to drive an electric motor.
3) Hydrogen is a basic earth element made up of a double proton and single electron and therefore is available in plenty.
Options :
a) 1 & 2 only
b) 2 & 3 only
c) 1 & 3 only
d) all the above
Q5. More than 24 thousand migrant labourers have got permanent employment through the 'RozgarSetu' portal launched recently. The portal was launched by which of the following Indian states?
a) Rajasthan
b) Madhya Pradesh
c) Telangana
d) Arunachal Pradesh