Current Affairs MCQ for UPSC Exams - 12 March 2018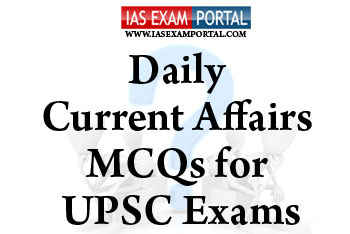 Current Affairs MCQ for UPSC Exams - 12 March 2018
Q1. Which of the following statements are true about SEBI?
i) The Securities and Exchange Board of India (SEBI) is the regulator for the securities market in India.
ii) It was established in the year 1988 and given statutory powers on 30 January 1992 through the SEBI Act, 1992.
iii) SEBI headquartered at New Delhi.
a) Only i
b) Only i,ii.
c) Only iii
d) All of the above
Q2. Where is the Founding Conference of ISA held?
a) Mumbai
b) Bengaluru
c) Goa
d) New Delhi
Q3. Which of the following statements are true about SWIFT?
i) The Society for Worldwide Interbank Financial Telecommunication (SWIFT) provides a network that enables financial institutions worldwide to send and receive information about financial transactions in a secure, standardized and reliable environment.
ii) SWIFT also sells software and services to financial institutions, much of it for use on the SWIFTNet Network, and ISO 9362.
iii) The majority of international interbank messages use the SWIFT network.
a) Only i
b) Only i,ii
c) Only i,iii
d) All of the above
Answer:
1 (b), 2 (d), 3 (d)