Current Affairs MCQ for UPSC Exams - 12 May 2022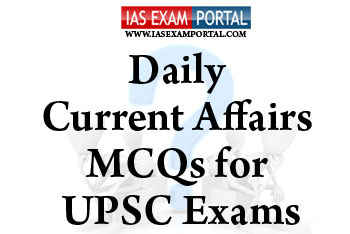 Current Affairs MCQ for UPSC Exams - 12 May 2022
Q.1) With reference to regarding Tomato flu disease, consider the following statements: 
1. The flu affects children below five years of age.
2. The symptoms of this fluinclude rashes, skin irritation and dehydration.
3. This flu is a self-limiting one and there is no specific drug for this.
Which of the statements given above is/are correct?
(a) 1 and 3 only
(b) 2 and 3 only
(c) 1 and 2 only
(d) 1, 2 and 3
Q.2) The COP15 of the United Nations Convention to Combat Desertification is being held at 
(a) Ivory Coast 
(b) Mongolia 
(c) Australia 
(d) Argentina 
Q.3) 73rd constitutional amendment act hasidentified separately the compulsory andvoluntary provisions under part IX of theconstitution. Which of the following is/are ofcompulsory provisions?
1. Organisation of Gram Sabha in a villageor group of villages.
2. Indirect elections to the post ofchairperson of panchayats at theintermediate and district levels.
3. Constitution of a State FinanceCommission after every five years.
Which of the statements given above is/are correct?
(a) 1 and 3 only
(b) 2 and 3 only
(c) 1, 2 and 3 
(d) 2 only
Q.4) The National Technology Day is celebrated on 
(a)11th May 
(b) 5th May 
(c) 2nd June 
(d) 18th May 
Q.5) With reference to regarding Corporate Insolvency Resolution Process, consider the following statements: 
1.It is the process of resolving the corporate insolvency of a corporate debtor in accordance with the provisions of Insolvency and Bankruptcy Code.
2.The minimum amount of default for initiating CIRP is ₹ 1 crore.
Which of the statements given above is/are correct?
(a) Neither 1 nor 2
(b) Both 1 and 2 
(c) 1 only
(d) 2 only