Current Affairs MCQ for UPSC Exams - 12 November 2019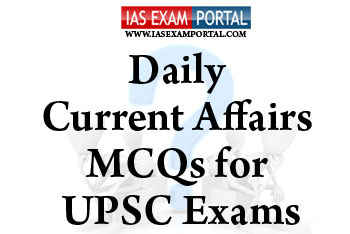 ---
Current Affairs MCQ for UPSC Exams - 12 November 2019
---
Q1. India needs to become more "transparent" on the fiscal numbers as it is a "laggard" among the G20 peers on this front. Which of the following statements regarding the above said IMF statement stands true ?
1) India is somewhat lacking in a programme on G20 data initiative on fiscal transparency where comparative countries have all made greater progress
2) The government has been missing its budgeted fiscal targets for the past few years and there is a need for a "credible fiscal consolidation
3) Fiscal stimulus is not possible to revive the sagging growth due to the relatively high level of public debt compared to the emerging economy peers.
a) 1 & 2 only
b) 2 & 3 only
c) 1 & 3 only
d) all the above
Q2. Which of the following pairs of forest types and their corresponding regions are correctly matched ?
1) Equatorial Moist Evergreen or Rainforest : Amazon basin
2) Tropical Deciduous Forest : Central south America
3) Coniferous Forest : Northern Australia
a) 1 & 2 only
b) 2 & 3 only
c) 1 & 3 only
d) all the above
Q3. In Australia, the states of New South Wales and Queensland have declared a state of emergency, following the widespread bush fires. Which of the following statements regarding the same stands true ?
1) Bushfires are frequent events during the warmer months of the year, due to Australia's mostly hot, dry climate. Each year, such fires impact extensive areas.
2) Certain native flora in Australia have evolved to rely on bushfires as a means of reproduction, and fire events are an interwoven and an essential part of the ecology of the continent.
3) However they are never caused by droughts or heat waves.
a) 1 & 2 only
b) 2 & 3 only
c) 1 & 3 only
d) all the above
Q4. Consider the following statements :
1) Digital India is one such important program which envisions transforming the country into a digitally empowered society and knowledge economy. Universal access to broadband connectivity and mobile connectivity will help bridge the distance between rural and urban India.
2) Today, JAM trinity (Jan Dhan – Aadhar – Mobile) has enabled us to use DBT mechanism for transfer of benefits directly to the beneficiaries. At present, funds of more than 425 schemes are getting transferred to the bank accounts of the beneficiaries through DBT.
3) This extensive use of digital technology has reduced corruption and improved the transparency. The use of digital technology to a large extent has ensured that the deserving people received the benefits meant for them.
Which of the above statements are true ?
a) 1 & 2 only
b) 2 & 3 only
c) 1 & 3 only
d) all the above
Q5. BRICS brings together five major emerging economies comprising 42 percent of the world's population, having 23 percent of the global GDP and around 17 percent of the share and world trade.
The 2019 BRICS summit will be held in which of the following countries ?
a) India
b) China
c) Brazil
d) Mexico
Answer :
1. (d) 2. (a) 3. (a) 4. (d) 5.(c)