Current Affairs MCQ for UPSC Exams - 13 August 2020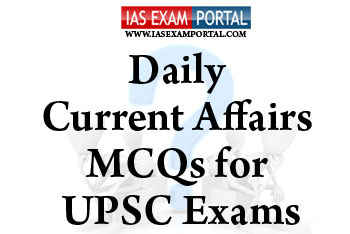 ---
Current Affairs MCQ for UPSC Exams - 13 August 2020
---
Q1 The labour ministry will soon move a proposal to significantly relax the eligibility criteria for availing unemployment benefits under the Employees' State Insurance Corporation scheme (ESIC). Which of the following statements regarding the ESIC scheme stands true ?
1) Under the AtalBeemaVyaktiKalyanYojana of ESIC, the government provides 25% of the monthly salary as unemployment benefit for three months. However, this could benefit only those subscribers who have been an ESIC subscriber for at least two years.
2) The ESI, which is under the labour ministry, is a self-financing health insurance scheme for formal sector workers in India and is managed by the Employees State Insurance Corporation (ESIC).
3) It applies to all factories and establishments employing at least 30 workers and under the current scheme the benefit can be availed only twice in a lifetime.
Options :
a) 1 & 2 only 
b) 2 & 3 only 
c) 1 & 3 only 
d) all the above
Q2 The Naga people are various ethnic groups native to the northeastern India and northwestern Myanmar. The groups have similar cultures and traditions, and form the significant population in which of the following Indian states ?
1) Manipur
2) Meghalaya
3) Assam
4) Tripura
5) Arunachal Pradesh
Options :
a) 1,2 & 3 only 
b) 2,3 & 5 only 
c) 1,3 & 5 only 
d) 2,4 & 5 only 
Q3 A study conducted among 1,500 chemists in six States by the Foundation for Reproductive Health Services India (FRHSI) indicated a severe shortage of medical abortion (MA) drugs in five out of the six States surveyed. Which of the following statements regarding the same stands true ?
1) The law on abortions allows termination of pregnancy in the first nine weeks and in some cases even in the second trimester, such as in sexual assault cases as well as due to foetal anomalies.
2) The lack of availability of Medical Abortion drugs forces many women to seek a surgical abortion from a facility, reducing her choice. However, medical abortion drugs are less regulated in India than prescription drugs.
3) During COVID-19, the lack of access to abortion services is likely to have worsened as not only travelling to a surgical facility is challenging, but the cost of such a procedure has also gone up.
Options :
a) 1 & 2 only 
b) 2 & 3 only 
c) 1 & 3 only 
d) all the above
Q4 Although ABA, a ubiquitous plant hormone, was discovered almost 80 years ago and the mechanisms underlying germination inhibition by this protein have been the subject of intensive research, there is scant knowledge about the mechanisms controlled by ABA for arresting the post-germination growth in response to environmental cues. Which of the following statements regarding the same stands true ?
1) The protein ABA acts as a 'master regulator' of the seed's growth by controlling several aspects of plant development, including seed dormancy and germination, as well as controlling growth under adverse conditions such as drought or salinity.
2)Being 'sessile' [fixed to a place], plants have an extraordinary sensing mechanism to allow them assess environmental conditions before a seed decides to open up and establish as a young seedling.
3)If seeds germinate in adverse environmental conditions, seedlings ultimately risk expediting precious energy in 'stress defence' rather than growth.
Options :
a) 1 & 2 only 
b) 2 & 3 only 
c) 1 & 3 only 
d) all the above
Q5 The platform 'Honoring the Honest' was recently brought out by the central government for which of the following purposes ?
Options :
a) Transparent taxation
b) Prioritised GST registrations
c) Transparency in coal block allocations
d) Reducing red tapism in lower beauracracy