Current Affairs MCQ for UPSC Exams - 13 February 2023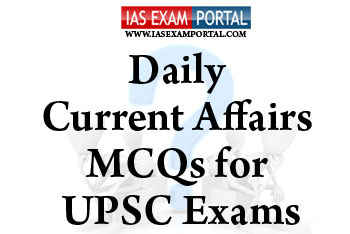 Current Affairs MCQ for UPSC Exams - 13 February 2023
Q.1) With reference to regarding UPI 123 Pay, consider the following statements: 
1. It is an instant payment system which will allow users to make UPI transactions without an internet connection. 
2. It was launched by the National Payments Corporation of India.
3. Transactions through UPI 123 Pay can be done through interactive voice response-based payment solution, missed call, sound-based technology, and payment app.
Which of the statements given above is/are correct?
(a) 1 and 3 only
(b) 2 and 3 only
(c) 1 and 2 only
(d) 1, 2 and 3
Q.2) Tarkash is a is joint exercise between India and 
(a) France 
(b) Japan 
(c) France 
(d) USA
Q.3) Consider the following statements: 
1. Judicial review is a type of court proceeding in which a judge reviews the lawfulness of adecision or action made by a public body.
2. Article 13 expressively provides for doctrine of judicial review.
3. American Constitution provides for 'due process of law' against that of 'procedure established by law' in Indian Constitution.
Which of the statements given above is/are correct?
(a) 1 and 3 only
(b) 2 and 3 only
(c) 1, 2 and 3 
(d) 2 only
Q.4) Similipal Tiger Reserve is located in 
(a) Odisha 
(b) Assam 
(c) Manipur 
(d) Chhattisgarh 
Q.5) Consider the following statements:
1.Bhashini Mission is a local language translation mission that aims to break the barrier between various Indian tongues by using available technology.
2.BHASHINI4 aims to build a National Public Digital Platform for languages.
Which of the statements given above is/are correct?
(a) Neither 1 nor 2
(b) Both 1 and 2 
(c) 1 only
(d) 2 only
Answer : 1(D), 2(D), 3(C), 4(A), 5(B)