Current Affairs MCQ for UPSC Exams - 13 January 2022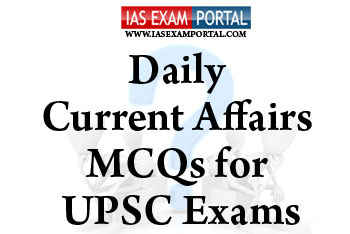 Current Affairs MCQ for UPSC Exams - 13 January 2022
Q.1) Consider the following statements regarding Treaty name    with description:
1. Comprehensive Nuclear-Test-Ban Treaty:It bans all nuclear weapons test explosions
2. Treaty on the Prohibition of Nuclear Weapons: It includes a comprehensive set of prohibitions on participating in any nuclear weapon activities
3. Partial Test Ban Treaty: Treaty Banning Nuclear Weapon Tests in Atmosphere, in Outer Space and Under Water
Which of the statements given above is/are correct?
(a) 1 and 3 only
(b) 2 and 3 only
(c) 1 and 2 only
(d) 1, 2 and 3
Q.2) NEAT 3.0 recently launched by which among the following ministry by Union government. 
(a) Ministry of Home Affairs
(b) Ministry of Health and Family Welfare
(c) Ministry of Labour and Employment
(d) Ministry of Educationand Skill Development
Q.3) With reference to regarding framework on offline digital payments, consider the following statements: 
1. It will allow offline payments of up to Rs 200 per transaction, subject to the total limit of Rs 2,000.
2. Offline payment transactions may be offered without an additional factor of authentication.
3. It will enable small value digital payments in offline mode using cards, wallets and mobile device and allowed face-to-face modeonly.
Which of the statements given above is/are correct?
(a) 1 and 3 only
(b) 2 and 3 only
(c) 1, 2 and 3 
(d) 2 only
Q.4) Recently seen in news regarding I4C project, it has been launched under which of the following ministry 
(a) Ministry of Home Affairs
(b) Ministry of Health and Family Welfare
(c) Ministry of Labour and Employment
(d) Ministry of Educationand Skill Development
Q.5) With reference to the Institute of Mathematical Sciences, consider the following statements:
1. The centre is located in Tamil Nadu. 
2. It is funded mainly by the Department of Atomic Energy.
Which of the statements given above is/are correct?
(a) Neither 1 nor 2
(b) Both 1 and 2 
(c) 1 only
(d) 2 only