Current Affairs MCQ for UPSC Exams - 13 June 2020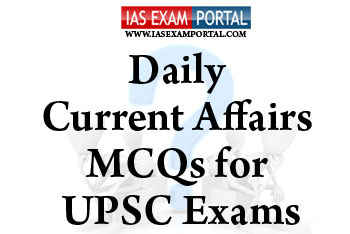 ---
Current Affairs MCQ for UPSC Exams - 13 June 2020
---
Q1 Centre has emphasized the need for collective efforts by all stakeholders towards eradication of child labour.Amendment in the child labour (Prohibition and Regulation) Amendment Act, 2016 is a noteworthy achievement of the Government. Which of the following statements with respect to the amendment stands true ?
1) The amendments states that no adolescent shall be employed or permitted to work in any of the hazardous occupations or processes set forth in the Schedule: Provided that the Central Government may, by notification, specify the nature of the non-hazardous work to which an adolescent may be permitted to work under this Act.
2) As per the amendments,''family enterprise'' means any work, profession, manufacture or business which is performed by the members of the family without the engagement of other persons.
3)  Ratification of ILO Conventions 182 and 138 reflect, India's commitment towards the elimination of child labour.
Options :
a) 1 & 2 only 
b) 2 & 3 only 
c) 1 & 3 only 
d) all the above
Q2 India today reiterated its commitment to partnering Tanzania in its development journey. The country borders the Indian ocean towards its east, which of the following are the other countries which  share boundary with Tanzania ?
1) Kenya
2) Nigeria
3) Mali
4) Burundi
5) Uganda
Options :
a) 1,2& 3 only
b) 3,4 & 5 only
c) 1,4 & 5 only 
d) all the above
Q3 Recently the National Highway Authority of India (NHAI) has gone fully digital, with the launch of unique cloud based and Artificial Intelligence powered Big Data Analytics platform. Which of the following statements regarding the platform stands true ?
1) Under the fully digitalised set up, entire project management work flow of NHAI is transformed from manual to online portal.This includes contractual decision, documentation and approvals that are now to be done through online portal alone. 
2) The project management details are to be stored in digital format in the cloud based "Data Lake" which is linked to GIS tagging.
3) Data Lake is a repository of data which allows tostore all structured and unstructured data at any scale.
Options :
a) 1 & 2 only
b) 2 & 3 only
c) 1 & 3 only
d) all the above
Q4 In keeping with Prime Minister's clarion call for AtmaNirbharBharat(Self Reliant India) emphasizing the importance of local for vocal, SahakarMitra: Scheme on Internship Programme (SIP) was launchedyesterday by Union Minister for Agriculture & Farmers' Welfare.Which of the following statements regarding the scheme stands true ?
1) SahakarMitra scheme is expected to assist cooperative institutions access new and innovative ideas of young professionals while the interns gain experience of working in the field giving confidence to be self-reliant.
2) SahakarMitra would also provide an opportunity to professionalsfrom academic institutions to develop leadership and entrepreneurial roles through cooperatives as Farmers Producers Organizations (FPO).
3) NCDC has earmarked funds for SahakarMitra paid internship program under which each intern will get financial support for the entire period of internship.
Options :
a) 1 & 2 only
b) 2 & 3 only
c) 1 & 3 only
d) all the above
Q5 The Jalan-Reddy policy, recently in news is associated with which of the following phenomenons ?
CLICK HERE FOR ANSWERS (Only for Course Members)
ANSWER....................