Current Affairs MCQ for UPSC Exams - 13 March 2018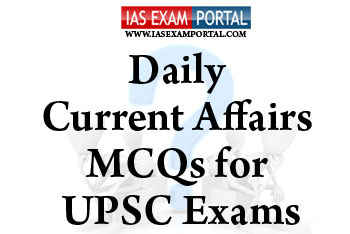 Current Affairs MCQ for UPSC Exams - 13 March 2018
Q1. Which of the following statement(s) is/are true about IIP?
i) The Index of Industrial Production (IIP) is an index for India which details out the growth of various sectors in an economy such as mineral mining, electricity and manufacturing.
ii) The all India IIP is a composite indicator that measures the short-term changes in the volume of production of a basket of industrial products during a given period with respect to that in a chosen base period.
iii) It is compiled and published monthly by the Central Statistical Office (CSO) six weeks after the reference month ends.
a) Only i
b) Only ii,iii
c) Only iii
d) All of the above
Q2. Which mountain of France on south borders it with Spain?
a) Pyrenees
b) Massif Central
c) Alps
d) Champagne
Q3. Which of the following countries doesn't fall in the tropics?
a) Mexico
b) Brazil
c) France
d) Singapore
Answer:
1 (d), 2 (a), 3 (c)