Current Affairs MCQ for UPSC Exams - 13 November 2020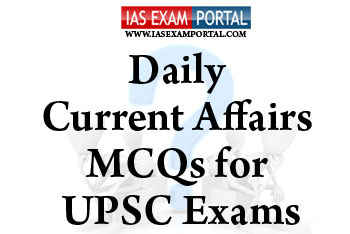 ---
Current Affairs MCQ for UPSC Exams - 13 November 2020
---
Q.1) Consider the following statements regarding National Entrepreneurship Award:
1. It has been instituted in 2015 to promote entrepreneurship
2.The award aims to encourage the spirit of entrepreneurship and inspire the youth. 
3.The award is given to honour young first-generation entrepreneurs and ecosystem builders who create a constructive environment for entrepreneurship and women entrepreneurs.
Which of the statements given above is/are correct?
(a) 1 and 3 only
(b) 2 and 3 only
(c) 1 and 2 only
(d) All the above
Q.2) Which of the following state assembly has recently passed a resolution on Sarna Code? 
(a) Odisha 
(b) Manipur 
(c) Assam 
(d) Jharkhand 
Q.3)East Container Terminal is associated with which of the Sri Lankan port
(a) Port of Galle
(b) Port of Colombo
(c) Port of Hambantota
(d) Trincomalee Harbour
Q.4)Protocol for Inland Water Trade and Transit agreement was signed which of the following group?
(a) India-Bangladesh 
(b) India-Bhutan
(c) India-Myanmar 
(d) India-Nepal 
Q.5) Consider the following statements regarding World Diabetes Day:
1. It is observed on 14 November every year. 
2. The programme is hosted by WHO.
Which of the statements given above is/are correct?
(a) Neither 1 nor 2
(b) Both 1 and 2 
(c) 1 only
(d) 2 only