Current Affairs MCQ for UPSC Exams - 14 February 2023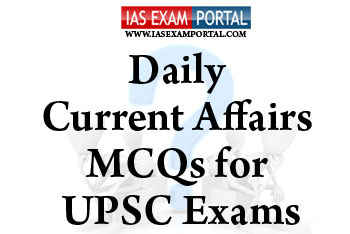 Current Affairs MCQ for UPSC Exams - 14 February 2023
Q.1) Consider the following statements: 
1. TRIFED was established under the Multi-State Cooperative Societies Act, of 1984.
2. It is a national-level apex organization functioning under the administrative control of the Ministry of Tribal Affairs.
3. It aims to develop socio-economic development of tribal people in the country by way of marketing development of tribal products
Which of the statements given above is/are correct?
(a) 1 and 3 only
(b) 2 and 3 only
(c) 1 and 2 only
(d) 1, 2 and 3
Q.2) The Indian Council of Historical Research sometimes seen in news, comes under 
(a) Ministry of Culture
(b) Ministry of Tourism
(c) Ministry of Information and Broadcasting
(d) Ministry of Education
Q.3) Consider the following statements regarding Sukanya SamriddhiAccount (SSA) scheme:
1. SSA scheme aims to encourage parents to build a fund for future education and marriage expenses of their daughters.
2. Account is opened in name of a girl child till child attains age of 10 years in post offices and notified branches of commercial banks.
3. Minimum deposit of Rs.250 and maximum of Rs. 1,50,000 can be deposited in a financial year.
Which of the statements given above is/are correct?
(a) 1 and 3 only
(b) 2 and 3 only
(c) 1, 2 and 3 
(d) 2 only
Q.4) Mount Olympus is the highest peak of which among the following country 
(a) Cyprus
(b) Greece 
(c) Latvia 
(d) Lebanon 
Q.5) Consider the following statements:
1.Agasthya koodam is located in Kerala.
2.It is part of UNESCO's World Network of Biosphere Reserves. 
Which of the statements given above is/are correct?
(a) Neither 1 nor 2
(b) Both 1 and 2 
(c) 1 only
(d) 2 only
Answer : 1(D), 2(D), 3(C), 4(A), 5(B)