Current Affairs MCQ for UPSC Exams - 14 January 2022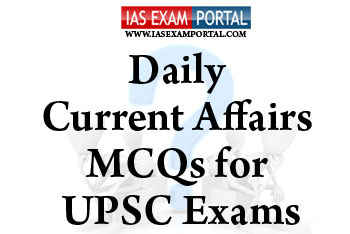 Current Affairs MCQ for UPSC Exams - 14 January 2022
Q.1) Consider the following statements regarding Currency Swap:
1.  A currency swap between the two countries is an agreement or contract to exchange currencies with predetermined terms and conditions.
2. Both countries pay for import and export trade at the pre-determined rates of exchange, without bringing in third country currency like the US Dollar.
3. In such arrangements no third country currency is involved, thereby eliminating the need to worry about exchange variations.
Which of the statements given above is/are correct?
(a) 1 and 3 only
(b) 2 and 3 only
(c) 1 and 2 only
(d) 1, 2 and 3
Q.2) Recently found by the researchers a new strain of Covid-19 variant called as Deltacron in which of the following countries. 
(a) Italy 
(b) Cyprus 
(c) Greece 
(d) Egypt 
Q.3) Manipur Government has recently declared as entire State excluding Imphal Municipal areas as 'disturbed area'. What does it mean?
1. It means that Armed Forces (Special Powers) Act (AFSPA), 1958 will be in force allowing for armed forces to be conferred with 'special powers'.
2. 'Disturbed area' is declared only by the President of India.
3. Disturbed area is declared under Section 3 of Act when a part or whole state/UT is in such a condition that the use of armed forces in aid of civil power is necessary.
Which of the statements given above is/are correct?
(a) 1 and 3 only
(b) 2 and 3 only
(c) 1, 2 and 3 
(d) 2 only
Q.4) Sabang port is located in 
(a)Myanmar 
(b) Indonesia 
(c) Philippines 
(d) Thailand 
Q.5) With reference to regarding digital embossing technology, consider the following statements: 
1.It is a digital printing technology that eliminates the need for printing plates, moulds, chemicals, and solvents etc.
2.This technology is designed and implemented for the first time in India by the National Atlas and Thematic Mapping Organisation.
Which of the statements given above is/are correct?
(a) Neither 1 nor 2
(b) Both 1 and 2 
(c) 1 only
(d) 2 only