Current Affairs MCQ for UPSC Exams - 14 june 2019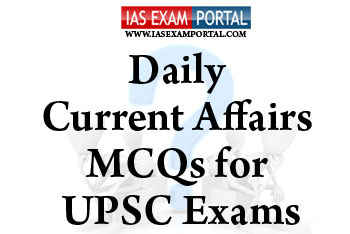 ---
Current Affairs MCQ for UPSC Exams - 14 june 2019
---
Q1. The government has reduced the rate of the contribution made by employees and employers under the Employees' State Insurance (ESI) Act from 6.5 per cent to 4 per cent.
Which of the following statements regarding the amendment to the ESI act are true ?
1) The reduced rate of contribution will bring about a substantial relief to workers and it will facilitate further enrollment of workers under the ESI scheme and bring more and more workforce into the formal sector.
2) It will also lead to enhanced Ease of Doing Business.
3) The ESI Act provides for medical, cash, maternity, disability and dependent benefits to the Insured Persons only under the Act.
a) 1 & 2 only
b) 2 & 3 only
c) 1 & 3 only
d) all of the above
Q2. Consider the following pairs of Indian tribes and their location states :
1) Irular :Tamilnadu
2) Moplahs : Manipur
3) Buksa : Uttar Pradesh
4) Angami : Rajasthan
5) Naikda : Goa
Which of the above pairs are correctly matched ?
a) 1,2& 3 only
b) 3,4 & 5
c) 1,3 & 5 only
d) all of the above
Q3. Consider the following statements :
1) Groundnuts grown in U.S have about 55% oleic acid, about 25% linoleic acid and around 10% palmitic acid, whereas in the India, several groundnut varieties have 80% oleic acid and just 2-3% linoleic acid.
2) Excess consumption of palmitic acid increases the risk of cardiovascular diseases.
3) Efforts have been taken to increase the oleic acid content and reduce both linoleic and palmitic acid content for health benefits and to increase the shelf-life in India.
Which of the above statements are true ?
a) 1 & 2 only
b) 2 & 3 only
c) 1 & 3 only
d) all of the above
Q4. Which of the following statements regarding the the World Investment Report 2019, released by the UN Conference on Trade and Development (UNCTAD) are true ?
1) The report ranked India among the top 5 host economies for FDI inflows in 2017-18.
2) FDI to India grew by 6 %to 42 billion dollars in 2018, with strong inflows in the manufacturing, communication and financial services sectors, and cross-border merger and acquisition activities.
3) The growth in cross-border Merger & Acquisitions for India to 33 billion dollars in 2018 was primarily due to transactions in retail trade, which includes e-commerce, and telecommunication.
a) 1 & 2 only
b) 2 & 3 only
c) 1 & 3 only
d) all of the above
Q5. While moving from India to Iraq, a vessel needs to cross which of the following gulfs while taking the shortest route ?
1) Gulf of Aden
2) Persian Gulf
3) Gulf of Oman
4) Gulf of Guinea
a) 1 & 2 only
b) 3 & 4 only
c) 2 & 3 only
d) all of the above
Answer:
1. (d) 2. (c) 3. (b) 4. (b) 5. (c)