Current Affairs MCQ for UPSC Exams - 15 April 2020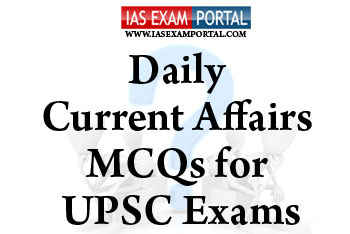 ---
Current Affairs MCQ for UPSC Exams - 15 April 2020
---
Q1 The National SafaiKaramcharis Finance and Development Corporation (NSFDC) has asked local bodies to ensure that all sanitation workers are provided personal protective equipment (PPE) to remain safe during the novel coronavirus pandemic. Which of the following statements regarding the NSFDC stands true ?
1) National SafaiKaramcharis Finance & Development Corporation(NSKFDC), was set up in 2013 under the Prohibition Of Employment As Manual Scavengers And Their Rehabilitation Act.
2) Apart from operating various loan and non-loan based schemes for the upliftment of the target group, NSKFDC is playing a vital role in elimination of manual scavenging - the worst surviving symbol of untouchability.
3) NSKFDC has been designated as the Nodal Agency for implementation of the Central Sector Self Employment Scheme for Rehabilitation of Manual Scavengers (SRMS) under the aegis of the Ministry of Social Justice & Empowerment.
Options :
a) 1 & 2 only
b) 2 & 3 only
c) 1 & 3 only
d) all the above
Q2 In India, the issuance of import license for HCFC-141b is prohibited from 1st January, 2020 under which of the following acts/regulations ?
1) Ozone Depleting Substances (Regulation and Control) Amendment Rules, 2019.
2) The Environment (Protection) Act, 1986.
3) National Green Tribunal Act, 2010.
Options :
a) 1 & 2 only
b) 2 & 3 only
c) 1 & 3 only
d) all the above
Q3 Consider the following statements regarding India's immunisation programme :
1) India's Universal Immunisation Programme (UIP) provide free vaccines against 12 life threatening diseases, to 26 million children annually.
2) The Mission Indradhanush aims to cover all those children by 2025 who are either unvaccinated, or are partially vaccinated against vaccine preventable diseases.
3) Mission Indradhanush 2.0 highlights enhanced immunization session with flexible timing, mobile session & mobilization by other departments alongwith focus on urban, underserved population and tribal areas.
Which of the above statements stands true ?
Options :
a) 1 & 2 only
b) 2 & 3 only
c) 1 & 3 only
d) all the above
Q4 Which of the following statements regarding the recently published World Economic Outlook report by the WEF stands true ?
1) India's growth is expected to dip to 1.9% in 2020 and rebound to 7.4% in 2021, as per the report.
2) Emerging Asia is projected to be the only region that grows in 2020, at a rate of 1%, still more than 5 percentage points below the previous decade's average.
3) As countries implement necessary quarantines and social-distancing practices to contain the pandemic, the world has been put in a great lockdown.
Options :
a) 1 & 2 only
b) 2 & 3 only
c) 1 & 3 only
d) all the above
Q5 The "Knesset" recently seen in news is the legislative.........................
CLICK HERE FOR ANSWERS (Only for Course Members)
ANSWER..........................