Current Affairs MCQ for UPSC Exams - 15 August 2019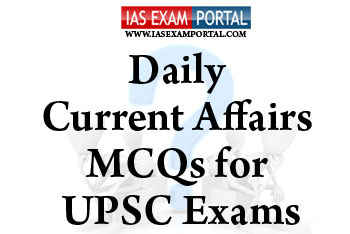 ---
Current Affairs MCQ for UPSC Exams - 15 August 2019
---
Q1. India has contributed $1 million to the UN Special Purpose Trust Fund for the Resident Coordinator System, recently. Which of the following statements regarding the same stands true ?
1) The Special Purpose Trust Fund is intended to receive, consolidate, manage and account for all contributions and financial transactions of the new RC system in an effective and transparent way.
2) The newly launched web portal of the Special purpose trust fund aims to enhance effective coordination of the UN's work in over 160 countries in support of the SDGs and is part of wider UN reform efforts on development, management, peace and security.
3) The UN secretariat in Geneva houses the 'Special Purpose Trust Fund (SPTF).
a) 1 & 2 only
b) 2 & 3 only
c) 1 & 3 only
d) all of the above
Q2. Consider the following pairs of Hydro power plants in India with their locations :
1) Obra :Uttarakhand
2) Lower Sileru : Andhra pradesh
3)Bhadra :Tamilnadu
4) Khopoli : Maharashtra
5) Kalindi : Karnataka
Which of the above pairs are correctly matched ?
a) 1,2 & 3 only
b) 3,4 & 5 only
c) 1,3 & 4 only
d) 2,4 & 5 only
Q3. Consider the following statements regarding India's current economic scenario :
1) India's economic growth has slowed to 6.8 per cent in 2018-19 - the slowest pace since 2014-15, consumer confidence is waning and foreign direct investment has plateaued.
2) Also, direct tax collections have grown by just 1.4 per cent. The growth in GST collection till July this fiscal too has been only 9 per cent as against 18 per cent estimated in the Union Budget.
3) Reserve Bank Governor had earlier this month stated that the slowdown is more cyclical than structural and the growth is expected to review by the fourth quarter.
Which of the above statements are true ?
a) 1 & 2 only
b) 2 & 3 only
c) 1 & 3 only
d) all of the above
Q4. Which of the followings statements with respect to the recently released reort on measles outbreak & its prevention stands true ?
1) With almost thrice as many cases reported to date in 2019 as there were at this time last year, the WHO has directed that everyone, 6 months and older, should be protected prior to travel to an area where measles is circulating.
2) Measles is almost entirely preventable with two doses of vaccine. High rates of vaccination coverage – 95% nationally and within communities – are needed to ensure that measles is unable to spread.
3) According to the WHO and UNICEF coverage data released in July 2019, 86% children have received the first dose of measles vaccine and 99% the second.
a) 1 & 2 only
b) 2 & 3 only
c) 1 & 3 only
d) all of the above
Q5. CITES (the Convention on International Trade in Endangered Species of Wild Fauna and Flora, also known as the Washington Convention) is a multilateral treaty to protect endangered plants and animals. It was drafted as a result of a resolution adopted in 1963 at a meeting of members of the International Union for Conservation of Nature (IUCN).
The organisation has its headquarters in which of the following locations ?
a) London
b) Paris
c) Washington DC
d) Geneva
Answer:
1. (a) 2. (d) 3. (d) 4. (a) 5.(c)