Current Affairs MCQ for UPSC Exams - 15 January 2022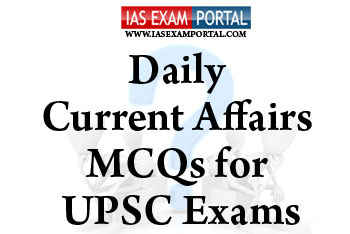 Current Affairs MCQ for UPSC Exams - 15 January 2022
Q.1) With reference to regarding Henley Passport Index 2021, consider the following statements: 
1. The index report has been released by Henley & Partners.
2. India has improved its position as per the index report. 
3. Index lists the world's passports according to the number of destinations their holders can access without a prior visa.
Which of the statements given above is/are correct?
(a) 1 and 3 only
(b) 2 and 3 only
(c) 1 and 2 only
(d) 1, 2 and 3
Q.2) Which among the following organisation has recently released the Global Economic Prospects report?
(a) International Monetary Fund
(b) World Bank 
(c) International Finance Corporation
(d) International Bank for Reconstruction and Development
Q.3) With reference to regarding suspension of a Member of Legislative Assembly, consider the following statements: 
1. Under Rule 53 of the Maharashtra Legislative Assembly Rules, 1960, only the Speaker has the power to suspend MLAs indulging in unruly behaviour.
2. Article 190 (4) of the Constitution which says that if for a period of 60 days, a member of a House, without its permission, is absent; the House may declare his or her seat vacant.
3. Article 212 (1) states that "The validity of any proceedings in the Legislature of a State shall not be called in question on the ground of any alleged irregularity of procedure".
Which of the statements given above is/are correct?
(a) 1 and 3 only
(b) 2 and 3 only
(c) 1, 2 and 3 
(d) 2 only
Q.4) Recently seen in news about the Mekedatu reservoir, it is located in 
(a)Tamil Nadu 
(b) Kerala 
(c) Telangana 
(d) Karnataka 
Q.5) With reference to regarding xenotrans plantation, consider the following statements:
1.Xenotrans plantation is the process of grafting or transplanting organs or tissues between members of different species.
2. Under Xenotrans plantation, the genetically engineered pigs are raised in a controlled, bio-sealed environment.
Which of the statements given above is/are correct?
(a) Neither 1 nor 2
(b) Both 1 and 2 
(c) 1 only
(d) 2 only