Current Affairs MCQ for UPSC Exams - 15 July 2020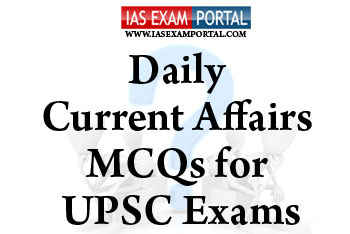 ---
Current Affairs MCQ for UPSC Exams - 15 July 2020
---
Q1. Consider the following statements with respect to recognition of political parties in India :
1) In every contested election, a symbol is allotted to a contesting candidate in accordance with the provisions ofConduct of Elections Rules, 1961.
2) A political party is recognized as a national party only if it secures at least 6% of the valid votes polled in any four or more states, in the LokSabha election or to the State Legislative Assembly.
3) A political party is recognized as a state party only if It has secured at least 6% of total valid votes in last assembly polls + has sent at least 2 MLAs to legislative assembly.
Options :
a) 1 & 2 only
b) 2 & 3 only
c) 1 & 3 only
d) all the above
Q2. Which of the following include the main components of diesel emission vehicles ?
1) Methane
2) Butane
3) Nitrogen oxide
4) Hydrocarbons
5) Carbon monoxide
Options :
a) 1,2& 3 only
b) 3,4 & 5 only
c) 1,3 & 4 only
d) all the above
Q3. The scientists from the International Advanced Research Centre for Powder Metallurgy and new materials (ARCI) have developed low cost, environment friendly super capacitor from industrial waste cotton.
1) The sea-water based super capacitor shows good durability with 99% of capacitance retention and 99% of Coloumbic Efficiency.
2) Coloumbic efficiency is the efficiency with which the charge is transferred in a system. Being a green capacitor, (meaning environment-friendly), the super capacitor has great potential waste to wealth applications.
3) Supercapacitors are next generation energy storage devices. They have high power density, ultra charging and long durability as compared to other conventional capacitors and lithium-ion batteries.
Options :
a) 1 & 2 only
b) 2 & 3 only
c) 1 & 3 only
d) all the above
Q4. Prime Minister NarendraModi has exhorted the youth to skill, reskill and upskill in order to remain relevant in the rapidly changing business environment and market conditions. With respect to PM Kaushal VikasYojana,which of the following statements stands true ?
1) Launched in 2015, PM KaushalVikasYojana is a flagship program of Ministry of Skill Development and Entrepreneurship (MSDE). National Skill Development Corporation (NSDC) implements it with the help of training partners.
2) One of the main objectives of PM KaushalKendras is to create benchmark institutions that demonstrate aspirational value for competency-based skill development training and focus on elements of quality, sustainability and Connection with stakeholders in skills delivery process.
3) Loan assistance under the PMKK project shall only be sanctioned to Company/ Society/Trust, as per the process and applicable laws and guidelines.
Options :
a) 1 & 2 only
b) 2 & 3 only
c) 1 & 3 only
d) all the above
Q5. The recently released "PRAGYATA guidelines" is associated with which of the following projects/processes?
a) Smart city project
b) Digital education
c) Urban water usage
d) Power plant waste disposals