Current Affairs MCQ for UPSC Exams - 15 November 2020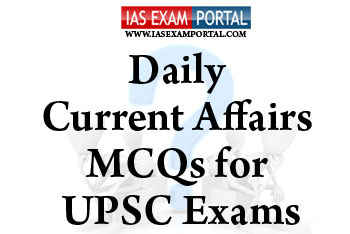 ---
Current Affairs MCQ for UPSC Exams - 15 November 2020
---
Q.1) Consider the following statements regarding fluoride concentration:
1. The Bureau of Indian Standard permissible limit of 1 mg /l.
2. Low fluoride concentration show comparatively higher bicarbonate values.
3.The region in Western Ghats comprise deformed metamorphic and igneous rocks, containing fluoride-bearing minerals.
Which of the statements given above is/are correct?
(a) 1 and 3 only
(b) 2 and 3 only
(c) 1 and 2 only
(d) 2 only
Q.2) Which state government has recently launched an awareness campaign to protect Amur falcons?
(a) Meghalaya 
(b) Mizoram 
(c) Manipur 
(d) Sikkim 
Q.3)Consider the following statements regarding vine snakes in India:
1.Vine snakes are known to be among the most common snakes in peninsular India.
2.It has also found in the Eastern Ghats.
3.These species were superficially similar in their morphology, but separated by geographic or ecological barriers.
Which of the statements given above is/are correct?
(a) 1 and 3 only
(b) 2 and 3 only
(c) 1 only
(d) 2 only
Q.4) Consider the following statements regarding Centre for traditional medicine:
1.Centre for traditional medicine is a subsidiary organisation of ICMR. 
2.It aims to support countries in developing policies and action plans to strengthen the role of traditional medicine as part of their journey to universal health coverage and a healthier, fairer and safer world.
Which of the statements given above is/are correct?
(a) Neither 1 nor 2
(b) Both 1 and 2 
(c) 1 only
(d) 2 only
Q.5) Consider the following statements regarding Supreme Court judgement on overqualified applicants:
1. The apex court judgment explained that, The Courts are not fit instruments to assess expediency or advisability or utility of such prescription of qualifications.
2.The apex court said courts allow a "greater latitude" for employers to prescribe the necessary qualification for a post.
Which of the statements given above is/are correct?
(a) Neither 1 nor 2
(b) Both 1 and 2 
(c) 1 only
(d) 2 only