Current Affairs MCQ for UPSC Exams - 16 April 2020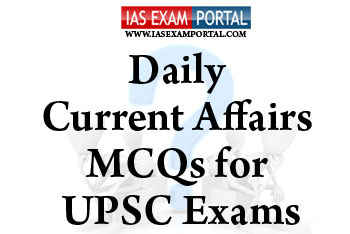 ---
Current Affairs MCQ for UPSC Exams - 16 April 2020
---
Q1 The IMD issues a two-stage forecast: the first in April, followed by a more detailed one in the last week of May, which will also illustrate how the monsoon will spread over the country. Which if the following statements with respect to the forecasting models of IMD stands true ?
1) The expectation of excess rain comes from a forecast by the dynamical model or the Monsoon Mission Coupled Forecast System — that relies on supercomputers, mathematically simulating the physics of the ocean and the atmosphere.
2) The dynamical model, while better at forecasting the state of the weather a week or two in advance, isn't yet considered reliable by meteorologists in forecasting the monsoon.
3) The statistical models, which the IMD relied on to make its forecasts, had a 41% forecast probability of normal monsoon.
Options :
a) 1 & 2 only
b) 2 & 3 only
c) 1 & 3 only
d) all the above
Q2 Consider the following hill stations of India with their location states :
1) Panchgani : Madhya Pradesh
2) Chail : Himachal pradesh
3) Horsley hills : Maharashtra
4) Patnitop : Jammu & Kashmir
5) Almora :Uttarakhand
Which of the above pairs are correctlymatched ?
Options :
a) 1,2 & 3 only
b) 2,4& 5 only
c) 1 & 3 only
d) 2 & 4 only
Q3 Consider the following statements :
1) A Virosome is a drug that consists of unilamellar phospholipid membrane, which allows the drug to fuse with the target cells.
2) The central cavity of the virosome consists of proteins and drugs only.
3) The surface of the virosomesare made of different glycoproteins.
Which of the above statements stands true ?
Options :
a) 1 & 2 only
b) 2 & 3 only
c) 1 & 3 only
d) all the above
Q4 Over 10 crore people have been excluded from the Public Distribution System because outdated 2011 census data is being used to calculate State-wise National Food Security Act (NFSA) coverage. Which of the following statements regarding the same stands true ?
1) Under the NFSA, the PDS is supposed to cover 75% of the population in rural areas and 50% of the population in urban areas, which works out to 67% of the total population, using the rural-urban population ratio in 2001.
2) With the 2021 census process being delayed due to the COVID-19 crisis, any proposed revision of PDS coverage using that data could now take several years.
3) Many State governments are reluctant to issue new ration cards beyond the numbers that will be provided for by the Central quota, making it difficult to reduce exclusion errors in the PDS.
Options :
a) 1 & 2 only
b) 2 & 3 only
c) 1 & 3 only
d) all the above
Q5 Which of the following countries was.........................
CLICK HERE FOR ANSWERS (Only for Course Members)
ANSWER.....................