Current Affairs MCQ for UPSC Exams - 16 December 2021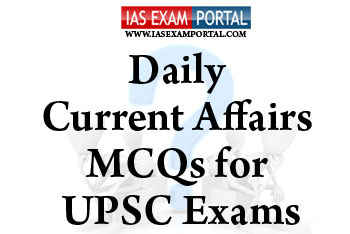 Current Affairs MCQ for UPSC Exams - 16 December 2021
Q.1) Consider the following statements regarding semiconductors:
1. Semiconductors possess specific electrical properties.
2. Common elemental semiconductors are silicon and germanium.
3. Common semiconductor compounds are such as gallium arsenide or indium antimonide.
Which of the statements given above is/are correct?
(a) 1 and 3 only
(b) 2 and 3 only
(c) 1 and 2 only
(d) 1, 2 and 3 only
Q.2) Which among the following festival has added to the UNESCO's Intangible Heritage list?
(a) Durga Puja
(b) Diwali 
(c) Pongal 
(d) Onam
Q.3) With reference to regarding wholesale price index, consider the following statements:
1. The index reflects changes in the average prices of goods at the retail/domestic level.
2. The index is released by Economic Advisor in Ministry of Commerce and Industry.
3. The current base year for calculation is: 2011-12
Which of the statements given above is/are correct?
(a) 1 and 3 only
(b) 2 and 3 only
(c) 1, 2 and 3 only
(d) 2 only
Q.4) Recently seen in news a portable soil testing device named as BhuParikshak. The device has been developed by 
(a)IIT Bombay
(b) IIT Kanpur 
(c) IIT Kharagpur 
(d) Indian Council of Agricultural Research
Q.5) Consider the following statements regarding Siberia region:
1.The climatic condition here is mostly Subarctic.
2.The world's oldest and deepest lake Lake Baikal is located in this region.
Which of the statements given above is/are correct?
(a) Neither 1 nor 2
(b) Both 1 and 2 
(c) 1 only
(d) 2 only