Current Affairs MCQ for UPSC Exams - 16 July 2020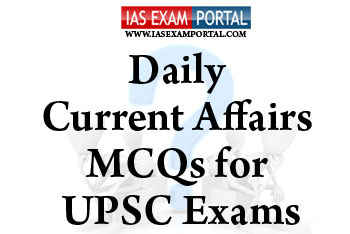 ---
Current Affairs MCQ for UPSC Exams - 16 July 2020
---
Q1. Sustainable agriculture is fundamental to food security, India has said at a high-level UN session, and emphasised the need to bring seed diversity back. Which of the following statements regarding the same stands true ?
1) The regular consumption of diverse fruits and vegetables is essential for a well-balanced diet and to prevent micro-nutrient deficiency and non-communicable diseases such as cancer and cardiovascular diseases.
2) However, despite this recognition, worldwide per capita consumption of fruit and vegetables is estimated to be 20-50% short of the minimum level recommended.
3) However around 15% of world's plant genetic diversity has been lost as farmers have shifted from local varieties to genetically uniform, high-yielding crop breeds, reducing the ability of crops to survive when faced with challenges.
Options :
a) 1 & 2 only
b) 2 & 3 only
c) 1 & 3 only
d) all the above
Q2. Plants that do not occur naturally in a region but proliferate in the area they have been introduced into, and cause several negative impacts (such as affecting native biodiversity, causing economic losses and harming human health) in these new habitats, are called invasive plants. Which f the following species are considered invasive in India ?
1) Asthma plant
2) Strobilantheskunthiana
3) Cleome viscosa
4) ButeaMonosperma
5) Lantana camara
Options :
a) 1,2 & 3 only
b) 2,3 & 5 only
c) 1,3 & 5 only
d) 2,4 & 5 only
Q3. Recently the Drug Controller General of India( DGCI ) has approved indigenous pneumococcal polysaccharide conjugate vaccine, making it the first indigenously developed vaccine against pneumonia. Which of the following statements regarding the same stands true ?
1) The vaccine is used for immunization against invasive disease and pneumonia in infants and is administered as an intramuscular dose.
2) The vaccine along with other vaccines against pneumonia, such as pneumococcal vaccine and Haemophilus influenza type B (Hib) vaccine, provides protection against the new coronavirus.
3) The vaccine trials were successfully conducted in adults as well as children in three phases at Gambia.
Options :
a) 1 & 2 only
b) 2 & 3 only
c) 1 & 3 only
d) all the above
Q4. When this century ends, India may no longer be a country of a billion, says a projection that appears in the online edition of the Lancet recently. Which of the following statements regarding India's population projection prospects stands true ?
1) At the current rate of growth, India's population is likely to peak by 2047 at about 1.61 billion and then decline to 1.03 billion by 2100.
2) However, were it to meet UN Sustainable Goal Development targets, the peak would be earlier and see a population decline to 929 million.
3) The sharper fall is due to the assumption that all women globally will have have much higher access to contraception and education and this scenario will lead to a sharper reduction in the Total Fertility Rate.
Options :
a) 1 & 2 only
b) 2 & 3 only
c) 1 & 3 only
Q5. The "Joint Declaration on Resource Efficiency and Circular Economy" agreement was recently signed by India and which of the following global/ regional organisations/unions ?
a) World Health Organisation
b) European Union
c) BRICS
d) ASEAN