Current Affairs MCQ for UPSC Exams - 16 September 2020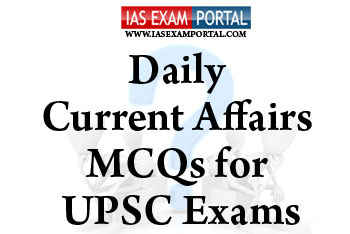 ---
Current Affairs MCQ for UPSC Exams - 16 September 2020
---
Q1. Recently, researchers in a major clinical trial announced that the drug Dexamethasone has been found effective in cutting the death rates by around a third in the most severely ill COVID-19 patients. Which of the following statements regarding the drug stands true ?
1) Dexamethasone is a generic steroid that has been used since the 1960s to reduce inflammation in a range of conditions, including inflammatory disorders and certain cancers.
2) The drug is banned in-competition(during competition) by the World Anti-Doping Agency (WADA) but its usage is allowed out-of-competition if athletes have the requisite Therapeutic Use Exemption (TUE).
3) It has been listed on the WHO Model List of Essential Medicines since 1977 in multiple formulations.
Options :
a) 1 & 2 only
b) 2 & 3 only
c) 1 & 3 only
d) all the above
Q2. Consider the following pairs of coal fields in India and their corresponding locations :
1) Palana : Rajasthan
2) Talchar :Chattisgarh
3) Raniganj : West Bengal
4) Dhanbad :Odisha
5) Jharia : Jharkhand
Which of the above pairs are correctly matched ?
Options :
a) 1,2& 3 only
b) 2,3 & 5 only
c) 1,3 & 5 only
d) 1,4 & 5 only 
Q3. Consider the following statements :
1) Moons exert a small gravitational pull on the planets they orbit, tugging at the planet. This gravitational interaction is what causes tides in the oceans here on Earth.
2) Jupiter is the planets with the maximum number of moons in its orbit.
3) Titan, Saturn's largest moon tugs on Saturn in a similar way, but the friction inside of Saturn is thought to be weaker than here on Earth because of the planet's gaseous composition (compared to Earth's rocky nature).
Which of the above statements stands true ?
Options :
a) 1 & 2 only
b) 2 & 3 only
c) 1 & 3 only
d) all the above
Q4. Which of the following statements regarding the recently passed Aircraft (Amendment) Bill, 2020 stands true ?
1) It has provisions to convert three existing bodies under the Ministry of Civil Aviation into statutory bodies. These three authorities are, the Directorate General of Civil Aviation, the Bureau of Civil Aviation Security and the Aircraft Accidents Investigation Bureau.
2) Under the bill, all these bodies will be headed by a single Director General who will be appointed by the aviation ministry.
3) The Bill raises the maximum limit on fines from 10 lakh rupees to one crore rupees. These fines are related to carrying arms, explosives and other dangerous goods aboard aircraft and constructing building or structures within the specified radius around an aerodrome reference point.
Options :
a) 1 & 2 only
b) 2 & 3 only
c) 1 & 3 only
d) all the above
Q5. Which of the following countries has recently decided to unveil a  bronze statue of Indian doctor Dwarka nath Kotnis for his contribution in medical assistance during the second world war ?
a) Bangladesh
b) China
c) United Kingdom
d) Singapore