Current Affairs MCQ for UPSC Exams - 17 January 2022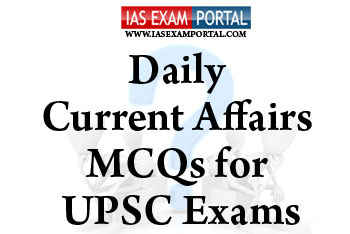 Current Affairs MCQ for UPSC Exams - 17 January 2022
Q.1) Consider the following statements regarding North Atlantic Treaty Organisation:
1. The organisation was formed in 1950.
2. The organisation aims to ensure collective protection for its members against the threat of possible post-War communist expansion and aggression by the Soviet Union.
3. NRC is a forum for consultation with Russia on security issues and cooperation.
Which of the statements given above is/are correct?
(a) 1 and 3 only
(b) 2 and 3 only
(c) 1 and 2 only
(d) 1, 2 and 3
Q.2) Recently which state government to install Pennycuick's statue in UK?
(a) Kerala 
(b) Andhra Pradesh 
(c) Karnataka 
(d) Tamil Nadu 
Q.3) With reference to regarding early harvest pacts, consider the following statements:
1. Early harvest pactsare used to open up bilateral trade between two countries on a restricted list of goods and services.
2. This pact potentially target the low-hanging fruits, leaving the tougher goods and services for later.
3. India had concluded an early harvest agreement with Thailand.
Which of the statements given above is/are correct?
(a) 1 and 3 only
(b) 2 and 3 only
(c) 1, 2 and 3 
(d) 2 only
Q.4) A species named Xylophaganandani, was recently found in 
(a) Bay of Bengal 
(b) Arabian Sea 
(c) Persian Gulf 
(d) None of the above 
Q.5) With reference to regarding ABC framework, consider the following statements: 
1.The ABC framework is part of National Education Policy.
2.Under ABC, students can choose to study one course in a year in one institution and switch to another one the next year.
Which of the statements given above is/are correct?
(a) Neither 1 nor 2
(b) Both 1 and 2 
(c) 1 only
(d) 2 only