Current Affairs MCQ for UPSC Exams - 17 October 2022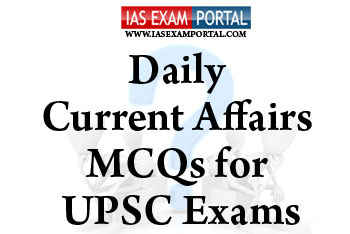 Current Affairs MCQ for UPSC Exams - 17 October 2022
Q.1) Consider the following statements regarding IndianBisons:
1. Listed as "vulnerable" in the International Union for Conservation of Nature (IUCN) Red List.
2. It is listed in CITES Appendix I.
3. It is a protected species and included in Schedule I of the Wild Life Protection Act, 1972
Which of the statements given above is/are correct?
(a) 1 and 3 only
(b) 2 and 3 only
(c) 1 and 2 only
(d) 1, 2 and 3
Q.2) With reference to the "Main Bhi Digital 3.0", consider the following statements:
1. "Main Bhi Digital 3.0" campaign has been launched which is aimed at digital onboarding of Street Vendors who are provided loans under PM SVANidhi Scheme.
2. Lending Institutions (LIs) have been instructed to issue a durable QR Code and UPI ID at the time of disbursement and train the beneficiaries in conduct of digital transactions.
Which of the statements given above is/are correct?
(a) Neither 1 nor 2
(b) Both 1 and 2 
(c) 1 only
(d) 2 only
Q.3) Consider the following statements: 
1. Omicron BF. 7 is the latest sub-variant of the Omicron variant, first detected in Northwest China's Inner Mongolia Autonomous Region.
2. It is also known as the 'Omicron spawn'.
3. Being a sub-variant of Omicron BA.5, BF.7 reportedly has enhanced immunity evasion in comparison to its parental strain.
Which of the statements given above is/are correct?
(a) 1 and 3 only
(b) 2 and 3 only
(c) 1, 2 and 3 
(d) 2 only
Q.4) With reference to the agro-climatic zones in Punjab, consider the following statements:
1.There are six agro-climatic zones in Punjab which include Sub-Mountain Undulating Region, Undulating Plain Region (UPR), Central Plain Region (CPR), Western Plain Region (WPR), Western Region (WR) and Flood Plain Region (FPR).
2.The variations in soil range from hill soils, tarai, brown hill, alluvial to desert.
Which of the statements given above is/are correct?
(a) Neither 1 nor 2
(b) Both 1 and 2 
(c) 1 only
(d) 2 only
Q.5) With reference to the International Maritime Organization (IMO) award for exceptional bravery at Sea, consider the following statements:
1. International Maritime Organization (IMO) council has awarded Certificate of Commendation to Indian Navy, Indian Coast Guard and Master along with crew members of tugboat Ocean Bliss.
2. The award has been given for exceptional and courageous efforts towards rescue operation of M/T New Diamond.
Which of the statements given above is/are correct?
(a) Neither 1 nor 2
(b) Both 1 and 2 
(c) 1 only
(d) 2 only