Current Affairs MCQ for UPSC Exams - 17 September 2020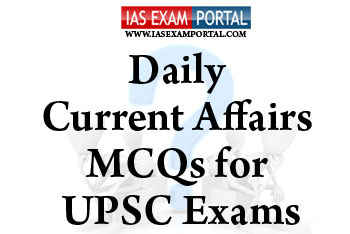 ---
Current Affairs MCQ for UPSC Exams - 17 September 2020
---
Q1 India has recently joined the Djibouti Code of Conduct/ Jeddah Amendment, DCOC/JA, as Observer. Which of the following statements regarding the organisation and India's future prospects stands true ?
1) The DCOC, established in January 2009, is aimed at repression of piracy and armed robbery against ships in the Western Indian Ocean Region, the Gulf of Aden and the Red Sea. 
2) As an observer at the DCOC/JA, India is looking forward to working together with DCOC/JA member states towards coordinating and contributing to enhanced maritime security in the Indian Ocean Region.
3) India has joined Japan, Norway, the UK and the US as Observers to the DCOC/JA and the group has a total membership of 18 members.
Options :
a) 1 & 2 only
b) 2 & 3 only
c) 1 & 3 only
d) all the above
Q2 The Mekedatu project aims to store and supply water for drinking purposes for the Bengaluru city. Around 400 megawatts (MW) of power is also proposed to be generated through the project. It is being built on Cauvery river.
Which of the following are the tributaries of Cauvery river ?
1) Arkavathi
2) Koyna
3) Kabani
4) Lakhmanthirtha
5) Bhima
Options :
a) 1,2 & 3 only
b) 1,3 & 4 only 
c) 2,3 & 5 only
d) 2,4 & 5 only 
Q3 Loksabha recently passed Banking Regulation (Amendment) Bill, 2020.Which of the following statements regarding the bill and the regulation of cooperative banks stands true ?
1) The bill enables the Reserve Bank of India (RBI) to make a scheme for reconstruction or amalgamation of co-operative banks to secure its proper management, and in the interest of depositors.
2) The cooperative societies which do not use words like bank, banking or banker in their names and entities that do not clear Cheques are also covered under the purview of the new bill.
3) After initially encouraging Urban Cooperative Banks (UCB) to spring up all over India for financial inclusion, the RBI began to wake up to their poor governance from 2005 when it stopped issuing new UCB licences.
Options :
a) 1 & 2 only 
b) 2 & 3 only
c) 1 & 3 only
d) all the above
Q4 Recently Indian Institute of Management, Kozhikode based incubatee start-up has come up with a unique user friendly wearable device named Veli bandthat alarms proximity for helping implement social distancing norms.
1) Veli Band helps implement social distancing and location and contact tracing which can help organizations comply with social distancing norms during the current pandemic situation.
2) Veli band is unidirectional, comes with a rechargeable battery and uses Microwave Low Energy technology for detection.
3) The device to be worn on the wrist can anonymously keep track of interactions with other devices and momentarily vibrates, sounds buzzer, and flashes LED simultaneously to notify wearers that another band is within 3 feet.
Options :
a) 1 & 2 only
b) 2 & 3 only 
c) 1 & 3 only 
d) all the above
Q5 Promoting self-reliance in sectors such as electronics and defence equipment, among others, can lead to import substitution of over $186 billion for India , says a studytitled 'Self-Reliant India: Approach and Strategic Sectors to Focus.' The study was published by which of the following organisations?
a) World Bank
b) Export and Import Bank of India (Exim Bank)
c) Reserve Bank of India
d) World Trade Organisation