Current Affairs MCQ for UPSC Exams - 17 September 2022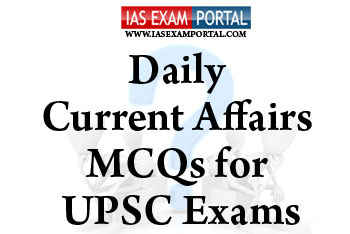 Current Affairs MCQ for UPSC Exams - 17 September 2022
Q.1) Which of the following statementsregarding "Regional Rural Banks" is/are correct?
1. RRBs are financial institutions whichensure adequate credit for agricultureand other rural sectors.
2. The equity of a regional rural bank is heldby the Central Government, concernedState Government and the Sponsor Bankin the proportion of 50:35:15.
3. The RRBs are required to provide 75%of their total credit as priority sectorlending.
Select the correct answer using the code given below:
(a) 1 and 3 only
(b) 2 and 3 only
(c) 1 and 2 only
(d) 1, 2 and 3
Q.2) Raja Parba festival is celebrated in which of the following states?
(a) West Bengal
(b) Odisha
(c) Jharkhand
(d) Bihar
Q.3) Consider the following statements with reference to Aligarh movement:
1. Syed Ahmed Khan was a member of the Imperial Legislative Council.
2. He supported western education but held the Quran to be the ultimate authority.
3. He opposed the practice of purdah and advocated easy divorce.
Which of the statements given above is/are correct?
(a) 1 and 3 only
(b) 2 and 3 only
(c) 1, 2 and 3 
(d) 2 only
Q.4) River Devika national project involves the construction of bathing ghats on the banks of Devikariver. It is located in which of the following states?
(a) Himachal Pradesh
(b) Punjab
(c) Jammu and Kashmir
(d) Arunachal Pradesh
Q.5) Consider the following statements about National Maritime Heritage Complex (NMHC):
1. National Maritime Heritage Complex, a world-class facility is to be developed in the vicinity ofArchaeological site of Dholavira in Gujarat.
2. Maritime and naval theme park, climate change theme park, monuments park and
adventure & amusement park are also to be developed at NMHC.
Which of the statements given above is/are correct?
(a) Neither 1 nor 2
(b) Both 1 and 2 
(c) 1 only
(d) 2 only