Current Affairs MCQ for UPSC Exams - 18 February 2023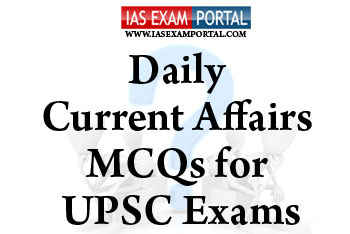 Current Affairs MCQ for UPSC Exams - 18 February 2023
Q.1) Consider the following statements regarding new fund offer (NFO): 
1. It refers to the initial sale of fund shares issued by an investment company to investors.
2. Mutual funds are the most common type of new fund offering.
3. Similar to an IPO in the stock market, NFOs are intended to raise capital for the fund and attract investors.
Which of the statements given above is/are correct?
(a) 1 and 3 only
(b) 2 and 3 only
(c) 1 and 2 only
(d) 1, 2 and 3
Q.2) Bikku Bitti is the highest point of which among the following country 
(a) Sudan 
(b) Morocco 
(c) Egypt 
(d) Libya 
Q.3) Consider the following statements regarding Marginal Cost offund-based Lending Rates(MCLR):
1. MCLR is the basic minimum rate below which banks can't lend.
2. RBI has established MCLR in 2016 as a tool for efficient Monetary policy transmission.
3. Increase in MCLR rates will make loan less expensive for consumers.
Which of the statements given above is/are correct?
(a) 1 and 2 only
(b) 2 and 3 only
(c) 1, 2 and 3 
(d) 2 only
Q.4) A species named Thyreus narendrani was found in 
(a) Kerala
(b) Tamil Nadu 
(c) Karnataka 
(d) Andhra Pradesh 
Q.5) Consider the following statements: 
1.Aerosols are minute particles suspended in the atmosphere. 
2.Aerosols interact both directly and indirectly with Earth's radiation budget and climate
Which of the statements given above is/are correct?
(a) Neither 1 nor 2
(b) Both 1 and 2 
(c) 1 only
(d) 2 only
Answer : 1(D), 2(D), 3(A), 4(A), 5(B)