Current Affairs MCQ for UPSC Exams - 18 June 2019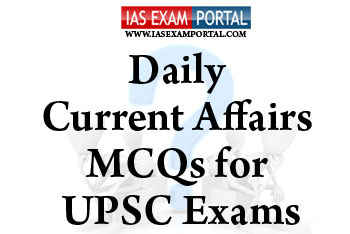 ---
Current Affairs MCQ for UPSC Exams - 18 June 2019
---
Q1. India has committed to play an active role to curb the circulation of 'conflict diamonds' or 'blood diamonds' in the international market by further strengthening the Kimberley Process Certification Scheme (KPCS Which of the following statements regarding the same are true ?
1) 'Blood' or 'conflict' diamonds had been almost excluded from global trade and now account for only 2%.
2) Every rough diamond is accompanied by a certificate confirming its non-conflict origin, and export-import procedures in most of the countries are now subject to rigorous control.
3) Kimberley Process (KP) had improved the lives of most people dependent on the industry and India was committed to making this process stronger.
a) 1 & 2 only
b) 2 & 3 only
c) 1 & 3 only
d) all of the above
Q2. The Chairman and members of NHRC (National Human Rights Commission) are appointed by the President on the recommendation of a committee consisting of which amongst the following offices/personalities ?
1) Prime minister
2) Chief justice of supreme court
3) Leader of opposition in loksabha
4)Chairman National commission for minorities
5) Loksabha speaker
a) 1,2& 3 only
b) 1,3 & 5 only
c) 1,2 & 5 only
d) 1,2 & 4 only
Q3. Consider the following statements :
1) India faces a severe problem of land degradation, or soil becoming unfit for cultivation. A 2016 report by the Indian Space Research Organisation found that about 29% of India's land (in 2011-13) was degraded, this being a 0.57% increase from 2003-05.
2) India had committed to restore 13 million hectares of degraded and deforested land by the year 2020, and an additional 8 million hectares by 2030.
3) China for the first time will host the 14th session of the Conference of Parties (COP-14) of the United Nations Convention to Combat Desertification (UNCCD) in September.
Which of the above statements are true ?
a) 1 & 2 only
b) 2 & 3 only
c) 1 & 3 only
d) all of the above
Q4. Which of the following statements regarding bitcoins/cryptocurrencies are true ?
1) For a Bitcoin transfer to be executed and validated, a mathematical puzzle must be solved by an arbitrary computer in the global Bitcoin network.
2) Crypto-currencies are not legal tender in India, while exchanges are legalthe government has said that anyone making profits from bitcoin will be exempted from paying taxes on them.
3) The use of cryptocurrencyBitcoin emits 22 megatonnes of carbon dioxide annually, comparable to the emissions of cities such as Las Vegas and Vienna.
a) 1 & 2 only
b) 2 & 3 only
c) 1 & 3 only
d) all of the above
Q5. South Korea shares boundary with which of the following seas ?
1) Yellow sea
2) Phillipines sea
3) South China sea
4) Sea of Japan
a) 1 & 2 only
b) 2 & 3 only
c)1,3 & 4 only
d) all of the above
Answer:
1. (d) 2. (b) 3. (a) 4. (c) 5. (c)