Current Affairs MCQ for UPSC Exams - 18 June 2020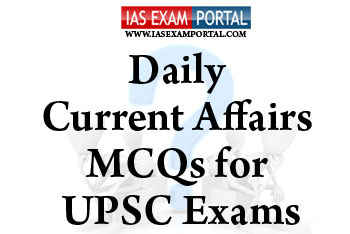 ---
Current Affairs MCQ for UPSC Exams - 18 June 2020
---
Q1 The Covid-19 pandemic has derailed India's plans of transitioning to a more robust system of estimating economic growth. Which of the following statements regarding the same stands true ?
1) The ministry of statistics and programme implementation (MoSPI) plans to shift to chain base method to estimate GDP from the current practice of a fixed base year.
2) In the chain base method, the base year is not fixed. The chain base method will capture structural changes in the economy faster by allowing new activity and items to be added every year.
3) Current GDP estimates are based on data for 2011-12 and are due for an update and in order to rebase macroeconomic indicators, household expenditure survey is a must.
Options :
a) 1 & 2 only 
b) 2 & 3 only 
c) 1 & 3 only 
d) all the above
Q2 Consider the following pairs of wildlife sanctuaries and their respective states :
1) Tal Chhapar : Assam
2) Tansa : Maharashtra
3) Sajnekhali : West Bengal
Which of the above pairs are correctly matched ?
Options :
a) 1,2& 3 only
b) 2 & 3 only
c) 1 & 3 only 
d) 1 & 2  only 
Q3 The finance ministry on Wednesday released Rs 15,187 crore to 28 states as grants to rural local bodies to help them restart economic activity as per recommendations of the fifteenth finance commission. Which of the following statements with respect to the grants to local bodies stands true ?
1) The Finance Commission Grants, in the Union Budget, provides funds to local bodies, state disaster relief funds and compensates any revenue loss to states after devolution of taxes.
2) The states shall transfer grants-in-aid within 10 working days of receipt from the Union government. Any delay beyond 10 working days will require state governments to release the same with interest.
3) The basic grants can be used by the local bodies for location-specific felt needs including for salary and other establishment expenditures.
Options :
a) 1 & 2 only 
b) 2 & 3 only
c) 1 & 3 only
d) all the above
Q4 The Sports Ministry is all set to establish Khelo India State Centres of Excellence under the Khelo India Scheme.Which of the following statements regarding the same stands true ?
1) One such centre will be identified in each State and Union Territory with an aim to create a robust sporting ecosystem in the entire country. The effort is to scale up the best sporting facilities available in each state into academies of world-class standard.
2) The Central government will run the centre and will be responsible for all aspects of management of the centre including, boarding, lodging and maintenance, while funds for expert coaches, supporting staff, equipments, infrastructure will be extended through the Khelo India Scheme.
3) The Khelo India initiative is being implemented by Ministry of Youth Affairs and Sports.
Options :
a) 1 & 2 only
b) 2 & 3 only 
c) 1 & 3 only 
d) all the above
Q5 The Asian Development Outlook has recently reported.......................
CLICK HERE FOR ANSWERS (Only for Course Members)
ANSWER..................