Current Affairs MCQ for UPSC Exams - 18 November 2019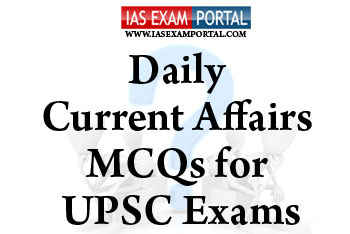 ---
Current Affairs MCQ for UPSC Exams - 18 November 2019
---
Q1. Which of the following includes the five point action programme released by WCD ministry in order to tackle malnutrition in the country ?
1) Ensure calorie rich diet for women, expectant mothers and children
2) Ensure intake of proteins in the form of pulses to eradicate protein hunger in women and children.
3) Eradicate hidden hunger due to deficiency of micro nutrients like vitamin A, vitamin B, Iron and Zinc.
4) Spreading nutrition literacy in every village particularly in mothers with children more than 200 days' old.
a) 1,2 & 3 only
b) 2,3 & 4 only
c) 1,3 & 4 only
d) all the above
Q2. Which of the following pairs of festivals in India and their corresponding states are correctly matched ?
1) Puli Kali : Kerala
2) Aoleang festival : Assam
3) Madai festival : Chattisgarh
4) Mim Kut festival : Mizoram
a) 1,2 & 3 only
b) 2,3 & 4 only
c) 1,3 & 4 only
d) all the above
Q3. Consider the following statements :
1) The ASEAN Defence Ministers' Meeting (ADMM) is the highest defence consultative and cooperative mechanism in ASEAN. The ADMM aims to promote mutual trust and confidence through greater understanding of defence and security challenges as well as enhancement of transparency and openness.
2) Another important new ADMM initiative is the establishment of a Direct Communications Link, which was adopted by the 8th ADMM in 2014. The Link, when established, will be a practical confidence and security-building measure that aims to promote quick response cooperation in emergency situation, in particular relating to maritime security.
3) Only ASEAN members participate in the ADMM ASEAN Defence Ministers' Meeting-Plus (ADMM-Plus) meeting held annually.
Which of the above statements are true ?
a) 1 & 2 only
b) 2 & 3 only
c) 1 & 3 only
d) all the above
Q4. Indian Oil has come up with an innovative solution to this problem by introducing a special winter-grade diesel with a low pour-point of -33o Celsius, which does not lose its fluidity function even in extreme winter conditions.
Which of the following statements regarding the same stands true ?
1) Motorists in high-altitude sectors like Ladakh, Kargil, Kaza and Keylong face the problem of freezing of diesel in their vehicles when winter temperatures drop to as low as -30o Celsius.
2) The additives will not prevent the diesel from developing wax particles but these are hindered from melding together to form larger wax flakes that can clog up the fuel filter.
3) Low-output electric heaters in fuel tanks and around fuel lines are a way to extend the fluid characteristics of diesel fuel. This is a standard equipment in vehicles that operate in arctic weather conditions.
a) 1 & 2 only
b) 2 & 3 only
c) 1 & 3 only
d) all the above
Q5. Which of the following cities have topped the tap water quality rankings recently released by the central consumer affairs ministry ?
a) Kolkatta
b) Chennai
c) Mumbai
d) Kochi
Answer :
1. (a) 2. (c) 3. (a) 4. (d) 5.(c)