Current Affairs MCQ for UPSC Exams - 18 November 2022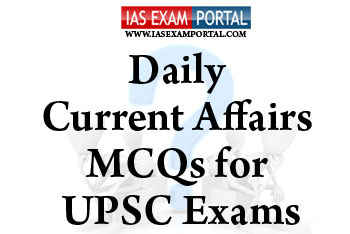 Current Affairs MCQ for UPSC Exams - 18 November 2022
Q.1) Consider the following statements: 
1. G20 is a strategic multilateral platform connecting the world's majordeveloped and emerging economies.
2. It consists of 19 countries and the EU.
3. It does not have a permanent secretariat and the presidency is supported bythe Troika – previous, current and incoming presidency.
Which of the statements given above is/are correct?
(a) 1 and 3 only
(b) 2 and 3 only
(c) 1 and 2 only
(d) 1, 2 and 3
Q.2) Which of the following directive principlesis based on liberal-intellectual principles?
(a) To organize village panchayats
(b) To protect and improve the environmentand to safeguard forests and wildlife
(c) Equal pay for equal work for men andwomen
(d) To promote equal justice and promotefree legal aid to the poor
Q.3) With reference to regarding UK India Youngprofessional scheme, consider the following statements: 
1. It was announced recently by United Kindom Prime Minister.
2. Under the scheme, UK will offer 3,000 places to 18–30-year-old degree-holding Indian nationalsto live and work in the UK for up to two years.
3. The scheme will commence in early 2023 and be on a reciprocal basis.
Which of the statements given above is/are correct?
(a) 1 and 3 only
(b) 2 and 3 only
(c) 1, 2 and 3 
(d) 2 only
Q.4) The International Tourism Mart is an annual event organised in the 
(a) North Eastern region
(b) Southern region 
(c) Northern region 
(d) Western region 
Q.5) Consider the following statements: 
1.Artemis I will be the first integrated test of NASA's deep space exploration systems: the Orion spacecraft and Space Launch System (SLS) rocket.
2.It is the first in a series of increasingly complex missions that will enable human xploration to the Moon and Mars.
Which of the statements given above is/are correct?
(a) Neither 1 nor 2
(b) Both 1 and 2 
(c) 1 only
(d) 2 only
Answer : 1(D), 2(B), 3(C), 4(A), 5(B)