Current Affairs MCQ for UPSC Exams - 19 April 2020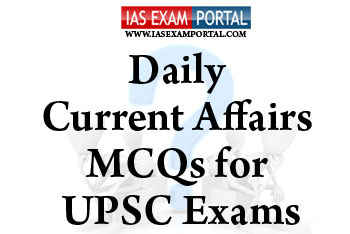 ---
Current Affairs MCQ for UPSC Exams - 18 April 2020
---
Q1 The Government of India reviewed the existing Foreign Direct Investment policy in light of the current COVID-19 pandemic. Which of the following statements regarding the same stands true?
1) The new provisions of the policy aim towards curbing opportunistic takeovers and acquisitions of Indian companies.
2) The new norms state that an entity of a country sharing land border with India can invest only under the Government route.
3) However, the new policy clarifies that in case of any change or transfer in ownership of an Indian entity arising because of FDIs from such countries, government approval is not required.
Options :
a) 1 & 2 only
b) 2 & 3 only
c) 1 & 3 only
d) all the above
Q2 Consider the following pairs of mineral deposits in India with their corresponding locations where they are found in abundance :
1) Copper :Singhbhum
2) Monazite :Cuddapah
3) Gold :Kolar
Which of the above pairs are correctly matched ?
Options :
a) 1 & 2 only
b) 2 & 3 only
c) 1 & 3 only
d) all the above
Q3 Which of the following statements with respect to the 2003 UNESCO Convention for Safeguarding of Intangible Cultural Heritage stands true ?
1) The convention mandates that an intangible cultural heritage must be recognized by communities, groups and, in some cases, individuals as part of their cultural heritage.
2) The Convention works on both national and international levels. At the national level, State Parties are supposed to 'take necessary measures to ensure the safeguarding of the intangible cultural heritage present in its territory.
3) The Convention establishes Intangible Cultural Heritage Fund, the use of which is decided by the Committee. The fund mainly consists of the contributions by State Parties and funds by the General Conference of UNESCO.
Options :
a) 1 & 2 only
b) 2 & 3 only
c) 1 & 3 only
d) all the above
Q4 Consider the following statements regarding Indian retail trade sector:
1) As per the 6th economic census of 2013, after agriculture, retail trade was the most dominant economic activity and accounted for 35% of the total economic activities.
2) As far as the employment generation is concerned, retail trade accounts for one-third of the total employment in India, even more than the manufacturing sector.
3) India is the world's fifth-largest global destination in the retail space and it accounts for over 10 per cent of the country's Gross Domestic Product (GDP).
Which of the above statements stands true ?
Options :
a) 1 & 2 only
b) 2 & 3 only
c) 1 & 3 only
d) all the above
Q5 Recently a huge crack has developed on the eastern part of Ambukuthi hills, on which the Edakkal caves are situated. The crack was exposed after a fire devastated the area a few days ago.The above said hills are located in which of the following states ?
CLICK HERE FOR ANSWERS (Only for Course Members)
ANSWER.....................